When making videos for social media, having best phone microphone for vlogging and Instagram videos is a must.
If you like to do in-person interviews on the street or capture once-in-a-lifetime moments, then a good mic has to be a priority for you!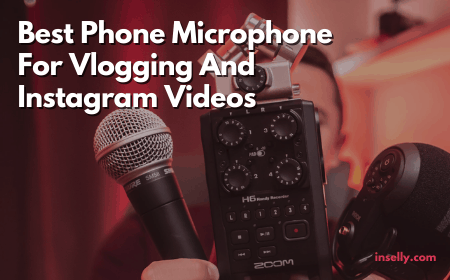 Best microphone for phone (mic for reels, instagram microphone, social media, etc)
| Image | Mic | Description | Price |
| --- | --- | --- | --- |
| | 1. Comica CVM-WM100 – Best Microphone For Vlogging | Works with most phones and cameras | |
| | 2. Lapel Lavalier By PowerDeWise – Best For Instagram Reels And Videos | Amazing sound quality for a lower price! | |
| | 3. VideoMicro By Rode – Best Mic For Vlogging With Phone | Easy to carry around, great for new influencers | |
The following are top-trending microphones many social media influencers swear by.
All have the potential to be the best mic for Reels, Instagram videos and Vlogging, providing a great way to pickup audio in almost any situation.
So, lets start with the list!
Best Phone Mic For Vlogging With Phone And Instagram Reels & Videos
1. Comica CVM-WM100 – Best Microphone For Vlogging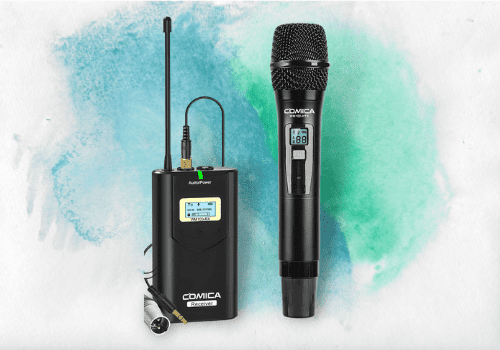 A high-quality omnidirectional microphone that offers 48 optional UHF channels, Comica's wireless handheld model CVM-WM100 is ideal for interviews or large scenes, like a wedding or a protest.
The price of this mic is a little more on the expensive side (but make sure to check the latest price) but it works with almost any smartphone and/or computer.
It has a high-resolution, energy-saving LCD display that's very simple to use. There's even real-time audio monitoring so you'll know if it stops functioning while using it.
The sound is crystal clear with professional results you'll love.
Tech Details:
3.5 mm Jack, XLR Connector, Omnidirectional
Pros: 48 channels to avoid interference, real-time audio monitoring, works with most phones and cameras
Cons: On the expensive end, highs are a bit sharp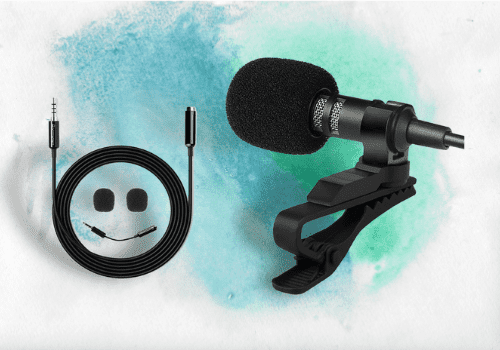 PowerDeWise's professional-style lapel microphone is around the $40 mark so it is one of the cheapest best microphones for Vlogging you can find. And is one of the most ideal for use with Instagram videos.
It's omnidirectional with an easy clip-on system great for on-the-go interviews and on-the-spot audio capture.
The standard jack means it's compatible with almost any smartphone or computer. There's a handy case for ease of transportation and protection.
It has noise reduction with clear audio using SOTA technology. There's a nice, long 79-inch extension cord and you don't need any additional drivers.
Tech Details:
3.5 mm Jack, Omnidirectional, Frequency Range 20Hz – 20000kHz
Pros: Works great with most phones and cameras, cheap, amazing sound quality
Cons: Not ideal for singing, some static when microhpone moves
3. VideoMicro by Rode – Best Mic For Vlogging With Phone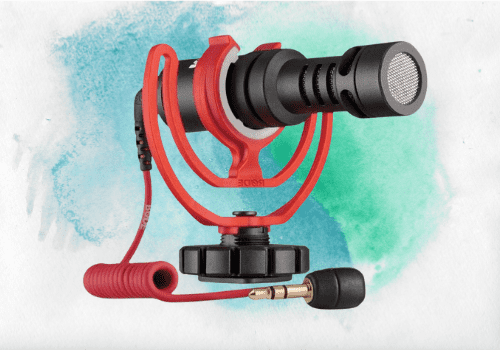 This compact, unidirectional microphone by Rode offers a top-of-the-line mic for your smartphone, featuring a furry windshield and a Rycote lyre shock mount.
But you also need to buy the Rode SC7 3.5mm TRS to TRRS Patch Cable for this microphone to work as expected on your phone.
It weighs only 1½ ounces and is at most three inches long. You don't need a battery because it's powered by the 3-volt charger, making traveling with it easy and convenient.
While it's a good microphone that can improve audio quality, there is one pitfall. You will have to buy a jack adapter so that it fits an iPhone. But the fact that it can mount to your desk or become a handheld device makes it adaptable and portable for any situation.
Tech Details:
Weight: 0.09 Pounds
Unidirectional, Battery Powered
Pros: Great compact microphone, easy to carry around, perfect for new influencers
Cons: You need a SC7 3.5mm TRS to TRRS adapter, great for its price but not the best audio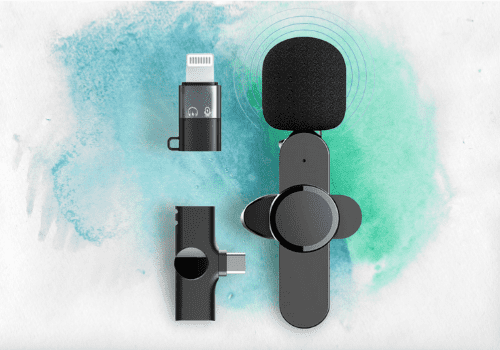 Now, if you have and iPhone or iPad the Mini Wireless Lavalier is a great option for you!
We specially like the design of this iPhone microphone and how easy is to use. You don't need any app, bluethoot or enable any settings for it to work.
You simply just plug the adapter into your device and it will automatically connect to the microphone. That's it!
The simplisity it is sometimes a downside, since we did find a few reviews where people complaint that the microphone just didn't record any sounds, and since it doesn't really come with much setting up information and the company doesn't provide support, if you have any problems you are pretty much left alone with it.
But don't worry much, we only found a couple people with such problems, 95% of them were really happy with the product.
Overall, if you are looking for an iPhone mic to do Instagram Reels, go live on Facebook, record Tiktoks and YouTube videos without a hassle, then this could be a good option for you.

Tech Details:
No app or bluethoot needed, Automatic noise reduction, 10 hours of battery life
Pros: Best option for iPhone and iPads, easy to use and set up. Plug-and-play!
Cons: No support if you have any problems. Can't use in any other devides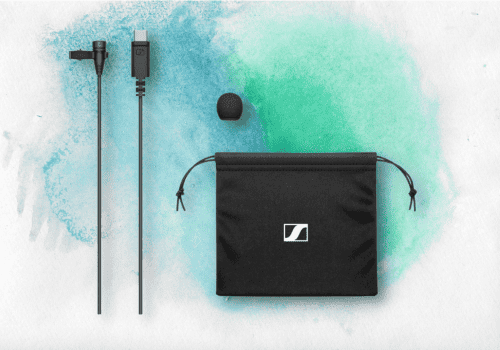 If what you are looking for is a mic to work with your USB-C port easily, then the Sennheiser XS Lav USB-C is the best option for you without having to get an adapter.
This mic is perfect for when you have to record videos on your phone. Maybe you are on a live stream without your regular set up or on the go. Maybe have to hop on a quick video call for work or just want to shoot a quick video while being outside and the ambient sound is not helping. When similar situations happen and working with a phone with USB-C port and mic is the only option, this one would be great for it.
It is easy to use, just plug it and play. The quality of the sound is good for the price, since it's not too expensive it's also not the highest quality, but a lot better than trying to do anything with the mic of your device. It's durable because of its thin rubber-coated cable without looking bad.
Overall it is a good option and something to consider especially if you have a phone or computer with a USB-C port and want to have a backup mic always in your backpack.
Tech Details:
Pros: Best option for USB-C needs, length of 2m (6.6'). Plug-and-play!
Cons: Mostly used as backup mic. Good for casual use but not pro use.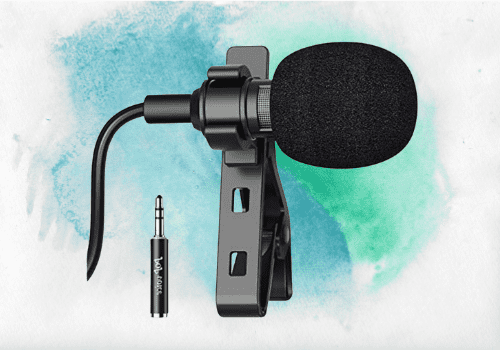 And for the last option, we got one of the most bought ones on Amazon, the PoP Voice Lavalier Lapel Single Head.
If you don't mind having a cord then this 16 feet long would be a great addition to your influencer gear devices.
Plus, this mic can be used in laptops, tablets, PC and Android and Apple phones.
The price of this mic is really low, for which you can't expect the highest quality, specially compared to the other ones in the list but it will be an improvement from your phone mic.
PoP Voice Lavalier Lapel is a great option if you want to start improving your social media videos audio without trying to be at a professional quality and at a cheap price.

Tech Details:
3.5 mm Jack, Battery Powered, 16 Feet cord
Pros: Can be used in any device with mic jack, lightweight, easy to carry and compact
Cons: Not the highest quality sound, no wireless, noise canceling isn't the best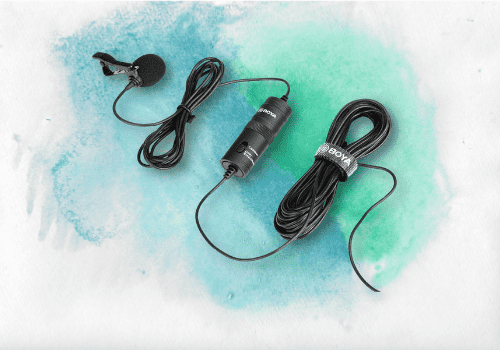 Another great low-cost option for recording vlogging videos or for Instagram content is the Boya BY-M1.
Because of its price, you can't expect it to give you the greatest sound, but its portability could make it a good option if you are on the go.
Some people have reported that it works better when the video includes only one person and the space is a quiet room. So yeah, unless you are doing like a recap of your day, maybe it is not ideal for vlogging in the streets.
Also, it needs a LR44 battery so you need to have an extra one with you if you are planning to use it for a while.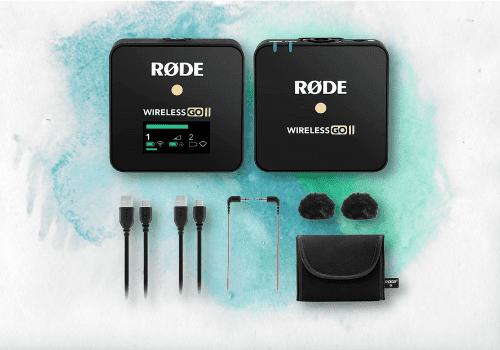 Rode has great microphones and the Wireless Go is one more great option for your social media content.
This is a high-end microphone and can deliver some great audio quality, it is portable but not as small as other mics in the list since it comes with a transmitter and a receiver.
Both devices come with a long lasting battery that can give you up to 7 hours of use, you can recharge it when it dies or use an external power bank.
If you have the budget for it and want to upgrade your vlogging tech, then this could be a good option for you.
Microphone For Vlogging And Instagram Videos – FAQ
Can I Use A Microphone With A Smartphone?
Yes, you very much can use a microphone with your smartphone. When creating visual content for Instagram, you can use pretty much any microphone that's available right now as long as the jack is compatible with your particular phone model.
That said, you may need to get additional accessories to make it run smoothly. For instance, you may have to purchase a USB-A, USB-C or an Apple Camera Connection Kit depending on your phone and the type of microphone you want.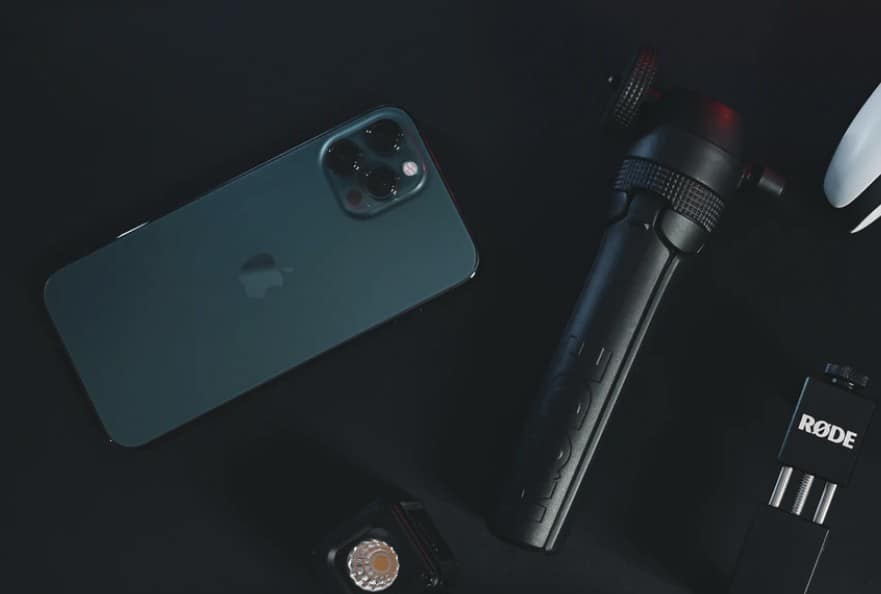 Having a microphone makes it more convenient, reduces extraneous ambient noise and provides for crisp, clear sound. These characteristics are most desirable among top social media influencers who use a microphone for their smartphones. This will also be invaluable if you receive a lot of phone calls.
Connecting a good microphone to your phone will make all your vlogging, insta videos and Instagram Reels stand out.
Should I Use A Microphone For Vlogging?
The answer is yes, you should use a microphone for vlogging if you can. It will improve the audio quality of your videos and make them sound more professional.
Also, using an external microphone will free up your phone's battery life since it won't have to work as hard to amplify your voice.
If you are just starting out, you don't need to spend a lot of money on a high-end microphone. There are plenty of affordable options that will do the job just fine.
As you get more experience and start to grow your following, you can upgrade to a better microphone if you want. But for now, just focus on creating great content and don't worry about having perfect audio.
What Type Of Mic Is Best For Vlogging?
An unidirectional microphone is the best type of microphone for vlogging which means they are built to record in one direction only.
Sure, you can also use a omnidirectional but you might get a some extra noise because they do pickup most of the sound around them.
But more importantly, the quality of the microphone is what is going to make the difference between good or bad sound in your videos.
So don't worry too much about the type of microphone, just focus on getting a good quality one that will fit your budget.
How To Enable The Microphone In Instagram?
If you records videos directly from Instagram or people can't hear you when you go Live, then you might have to enable your microphone for Instagram.
There is a chance that your phone mic or the external microphone you are using is having problems, but before making that assumption, check if the steps below fix your problems.
How to enable the microphone in Instagram for Android:
Go to your phone "Settings"
Open "Apps" and select "Instagram"
Go to "Permissions"
Enable access to microphone.
How to enable the microphone in Instagram for iPhone:
Go to your iPhone "Settings"
Tap on "General" and select "Privacy"
Go to Microphone
Switch Microphone toggle to On.
If you still have problems with it then you should check if your mic is working on other apps, it might be a problem with your hardware.
How To Choose The Best Mic For Phone
Having the right gear to record videos, like getting the best camera for Instagram or a good right light and also, in this case, the best microphone is essential in your influencer career, specially after it has taken off.
In the case you don't find our suggestions appropriate to your needs, here are a few tips on what to look for in a microphone that works with your smartphone.
Make note of the following checklist points, write down the ones most applicable to you and use it as a guide to find your dream mic.
Size
Consider how big you want the microphone to be. If you're often out and about, then a big and bulky one will present more of a burden than one that's smaller and more compact.
Will you use the mic indoors or outdoors? Do you need it to accommodate various locations and situations?
Connector
Even though most microphones can connect with a 3.5mm jack or USB cable, you'll still need to use an adapter. Newer models of phones are no longer installing a standard jack.
However, the microphone's connector doesn't affect compatibility because manufacturers design these to work with multiple devices.
Microphone Type
There are several microphones appropriate for a wide range of uses and situations.
A lavalier, or lapel, will attach to your cap, jacket or other area of clothing. But there are also desktop mics, handhelds and clip-ons along with stereo and wireless styles.
Price
Your phone, video camera or even some good webcams for streaming come with mic, but of course they are not as good to an external one. But they are not nearly as good as an external one.
So, how much can you reasonably afford for a microphone?
Newbie influencers may have to resort to an inexpensive one to start with until there's enough of a following to warrant getting a higher-quality one.
More seasoned creators may be able to get away with spending a little extra because they know they'll be able to compensate for the cost.
Sound Range – Direction
There are basically two ways microphones can pickup sound: unidirectional or omnidirectional. Unidirectional refers to how the mic captures audio from the front.
Omnidirectional means it picks up audio from all sides of the device.
Wired or Wireless
Depending on what you intend to do, you should think about whether the microphone needs a cord while in use or not.
There are many models of both out there, so it's best to decide this before hunting down a mic.
Charging
There are several charging port types for you to consider. Which will make things easier and more convenient for you, a lightning port, USB-C, micro USB or a Bluetooth?
The answer to this will depend on the model of phone you have and what it uses to hardwire a charging cord.
Software – Drivers
Some microphones require you to install software, an app or additional drivers in order for it to operate the way you need it to. Some microphone manufacturers make flawless and seamless connections to your smartphone and others won't do a thing until you create an account on their software.
If you connect it to your computer it might be easier but in this post we are looking for mics for phone, having a great laptop for blogging makes it easier if you run into compatibility problems with your mic.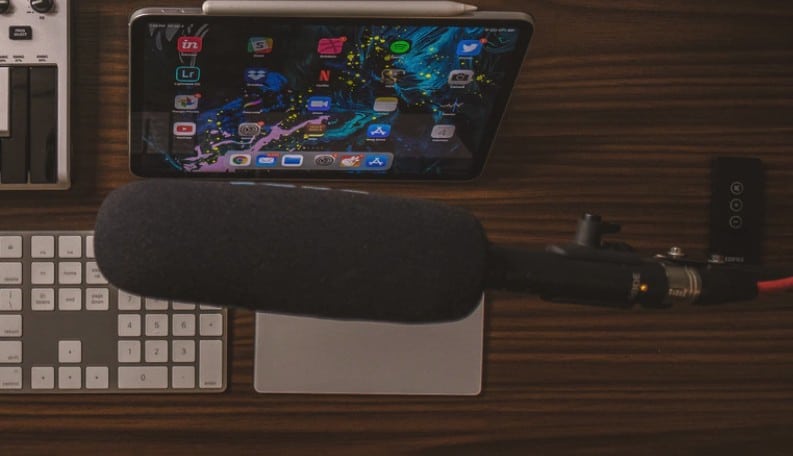 Final Thoughts – Best Phone Mics For Vlogging and Instagram Videos
As we mentioned above, the best phone microphone for Vlogging and Instagram videos will depend on your preference and budget.
The top 3 microphones for phones listed in this article will definitely be better than the default mic your phone has or that the microphone integrated into your earphones. So whatever you decide is going to be good.
If you have the budget and have been recording videos for a while then probably your best option is the Comica CVM-WM100 but if you are just starting as an influencer then you should go for the Lapel Lavalier by PowerDeWise.
We hope this guide has helped you choosing the best microphone for you, so now is the time to start recording those amazing interviews, great collaborations with other accounts and all the content that wasn't the best because your audio was not as good as expected.