If you want to create top-notch content on Instagram, you need to invest in a good-quality ring light. A ring light not only enables you to produce great videos but also lets you take gorgeous selfies. 
If you are thinking of adding a ring light to your arsenal, you are on the right path.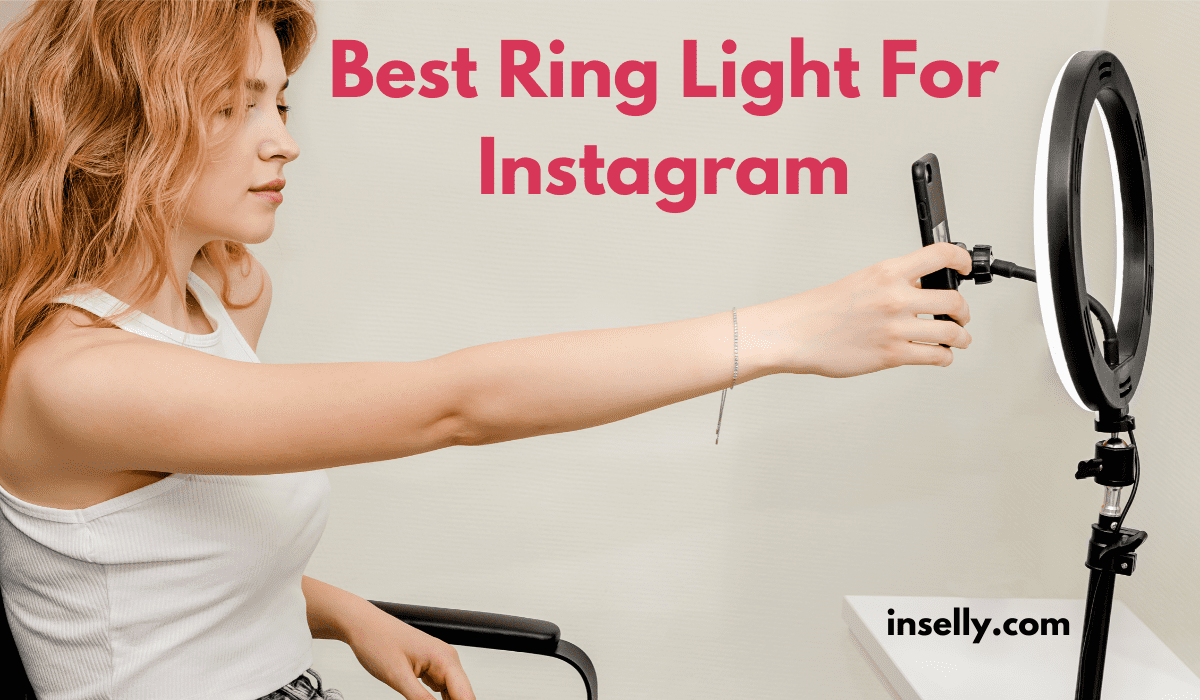 Not all ring lights are the same; some can be too small for you, and some can be of unacceptable quality. So, picking the right one for your needs on the first attempt can be a challenge. 
But worry not, though. We are reviewing the best ring lights for Instagram in this article. By the end of it, you will be able to get your hands on the right one for yourself. 
Let's get started with our review now. 
Best Ring Lights for Instagram 
See Today's Price
The Neewer Advanced LED right has everything you would want in a ring light. It's easy to set up and collapse. You won't have any problems using it frequently. 
Moreover, you can easily adjust its settings from the touch screen. You don't have to walk up to the light, though; there is a remote control that works just fine. The light gets pretty bright, making it ideal for all types of users. 
The overall quality is fairly good. Although it's made of plastic material, for the most part, it would do just fine if you are not collapsing it all the time. 
The tripod is adjustable, so you can tilt the light down for an overhead view. 
The mobile phone holder and a hot shoe adapter can hold virtually all types of mobile phones and DSLR cameras, respectively. 
All in all, the ring light provides a great bang for buck. It's pretty huge, so make sure this one falls under your budget. 
Pros
Easy to mount and collapse

Fairly durable

Bright 

Good value for money 

Large size
Cons
Most of the build is plastic
See Today's Price
A wireless ring light can be another great addition to your arsenal, especially if you are a full-time Instagrammer. That is why the IVISII Wireless Ring Light is our second best option.
You can control the brightness as well as the temperature of the light. You can set the temperature anywhere between 3000 and 5800 K
The ring light comes with a remote control and a stand. So, adjusting the light settings would be no hassle too. 
Plus, the intensity is so good that you can even brighten up a whole room with it. 
You can use a DSLR camera of virtually every size, thanks to the hot shoe adapter. Also, there is a smartphone holder that can hold a variety of mobile sizes.  
It's huge, which makes it a little difficult to carry around. So, if you are looking for a portable ring light for Instagram, this one might not be for you. 
All in all, you will be amazed how this right light provides such great features at such a low price point if you are looking for a wireless option. If you don't care about portability then there are cheaper ring lights for  you.
Pros
Large size

Very bright 

Adjustable brightness and temperature

It comes with remote control and a stand 

Great value for money 
Cons
Not very portable

More in the expensive side
See Today's Price
The AIXPI LED Ring Light is our affordable option of the list while still being good enough for taking Instagram pictures and videos. With this ring light, you could be sitting in pitch darkness while making an Instagram video, and your viewers won't even notice it. 
It's one of the simplest to set up. You get clear instructions on how to install it with the tripod stand. 
One of the things that make it stand out is its perfect tripod stand. It has rubber feet, providing a good grip on the floor. Plus, the adjustable legs of the stand enable you to adjust the height of the light. 
You can easily move it around, which makes it ideal for users that make videos in different locations. 
In addition, it's a breeze to set up different angles on this ring light. And, you can use it with your power bank and make Instagram videos all day long. 
It comes with a universal smartphone holder that is compatible with mobile phones of virtually all sizes, with or without a cover. 
The quality is great too but, the part that holds your phone or a camera could have been a little tighter. 
Pros
Fairly durable 

Portable

It comes with a perfect tripod stand

Easy to set up

Very bright light
Cons
The camera holder can be a little loose
How to Pick the Best Ring Light for Yourself?
Now after showing you which are the best ring light for Instagram for photos and videos according to our research, if you have time you should continue reading how to pick the best one for you. 
Also, complete your Instagram influencer set up with the best camera for Instagram and a good tripod for recording videos for Instagram or Youtube, we are sure you will like those reviews too.
The Ideal Ring Light Size for You
First things first, you want to know the ideal size of a ring light for your needs. For instance, if you want to sit at a distance, which is almost always the case, a 14" – 18" ring light would be suitable. 
A larger ring light is preferable because it covers your face and helps in getting rid of unwanted shadows. 
Moreover, a larger ring light will let you fix your mobile phone inside it, allowing you to use it easily. 
That said, smaller ring lights also have their plus points. They come at a lower price point, are smaller, and lighter, which makes them easier to handle. 
Plus, most of these small lights can adequately cover your face. 
The point is you need to choose a ring light that goes with your budget and needs. 
Adjustable Brightness
The brightness of ring lights is an important feature to consider. But, thankfully, most ring lights come with adjustable brightness. 
This means you can reduce or increase the intensity of light according to your needs. 
Some cameras are able to adjust the brightness as some webcams for streaming, but if the natural light is low, you will need a good ring light. 
If you bought a ring light without the adjustable brightness feature, you would have to position the subject manually.
And, that would be a hassle as the subject would most probably be you. 
Adjustable Color Temperature
What color a light emits depends on the color temperature settings. Some Instagram influencers like the white light, while others prefer yellow. 
The good thing is, you don't have to decide on a single color while selecting a ring light. 
Many ring lights come with the adjustable color temperature feature. So, you can change the color of your light whenever you want. 
If you want to have all the options, going with a ring light with an adjustable color temperature would be the right thing to do. 
Flexible Neck 
While not a necessity, a rotatable ring head can be pretty useful. It lets you position the ring light at a certain angle above the subject.
You can even bounce the light off the ceiling or ground if the ring light neck is 90-degree rotatable. 
If you would like to have that flexibility in your ring light, get the one with a flexible neck. 
Some lights might not have this feature, though. So, what you can do is, buy a light stand adapter. You would be able to rotate the head then.  
However, that would be an additional expense. 
Tripod Stand
Even if you have a tripod stand, it might not fit your new ring light. As a video content producer, you want to make sure that your setup is complete. 
If you are planning on moving your ring light frequently, make sure the tripod stand is not too heavy to carry around.
But, if you are going to be recording action videos where the camera will be moving the a tripod is not what you need, you should look for a good gimbal for GoPro or whatever camera you use.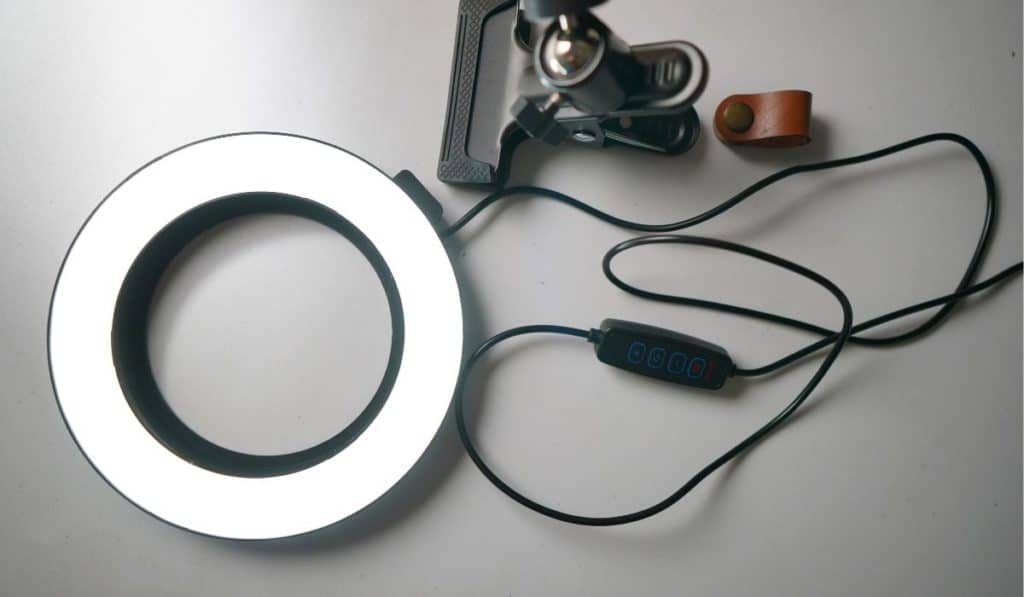 Remote Control 
You might not want to walk up to your ring light to adjust its brightness. Remote control makes it convenient to adjust any settings on the go. 
Some ring lights may even forget their last setting. So, it's a good idea to make sure that the ring light you are going with has a remote control. 
You should also get a remote camera shutter for iPhone or Android, to help you take better pictures and videos.
The remote control to adjust the lights won't likely connect to your phone or camera, so you might need one.
Value for Money
The bigger the ring light, the more you will have to pay for it. So, you need to realize your requirements first. If you think an 18-inch light is what you want, you will have to invest more. 
However, the size of a ring light isn't the only thing that decides its value for money. Look at its features. 
Does it have a remote control?

Can you dim the brightness?

Does it have a color adjustment setting?

Is it portable?
Final Words
This was an in-depth buying guide and review of the best ring lights for Instagram. If you are an influencer or want to be one, one of these ring lights is a must-have for you. 
All of them provide great features and don't cost an arm and a leg; just make sure to select the one that suits your requirements.  
For instance, do you want a big ring light or a small one would suffice? If you have the budget and can handle a big one, it's almost always a preferable choice. 
The  goal is for you to look for the best features for you and make an informed decision before buying.