Given the numerous options and alternatives on the market, finding a good mouse for content creators that meets your demands may be rather intimidating.
Although, there are still many productivity-focused options that thrive regarding the features and ergonomics that might as well won't look out of place in a studio or an office setting for content creators.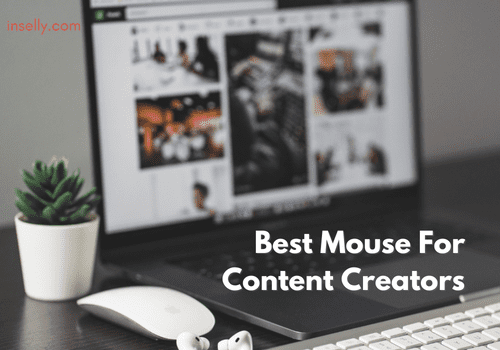 Best Mouse for Content Creators And Photo Editing
Despite the fact that the leading industries are focusing more than ever on the navigation quality and the specs for content creators and influencers.
A high-end mouse with a larger, more stable profile will be much more pleasant for your palm as you move it if you're working at a stationary desk, especially for gamers.
However, people who are constantly on the go might need to think about a more portable, smaller option.
A top recommendation and buying guide for the best mouse for content creation and photo editing and other comparable tasks are highlighted below.
Let's see what they are.
Best Mouse For Content Creators & Photo Editing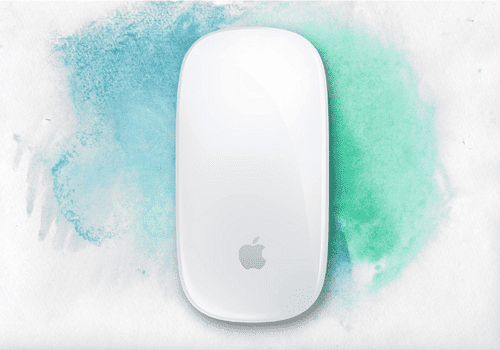 This is quite different from what we've mentioned before about getting a mouse with excellent ergonomics for photo and video editing. The Apple Magic Mouse 2 is a modern-looking mouse that works well for both left and right-handed users.
In comparison to other chunkier constructed mouse, this mouse slides into a laptop bag easily.
Many other laptop mice are usually so tiny that using them becomes uncomfortable. The top of the Apple Magic Mouse is smooth, giving it the appearance of a second touchpad on your MacBook.
In addition to conventional Mac OS gesture shortcuts, it can recognize multi-touch scrolling movements in both the vertical and horizontal directions.
The mouse's built-in Li-ion rechargeable battery lasts long, and its wireless Bluetooth connectivity is excellent.
Why we Love it
Because of its high-end features, such as its sleek designs, battery life, navigation which is awesome for gamers who are left- and right-handed, and its effectiveness for photo and video editing, we recommend the Apple Magic Mouse 2 for MacBook users, which is one of our recommended laptop for bloggers.
In conclusion, the Apple Magic Mouse 2 is a joy to use as a content creator even when traveling!
What are the Features?
It is appropriate for both left- and right-handed content producers.
There is only one button.
Its sensor has a 1300 dpi resolution.
A wireless Bluetooth connection is utilized.
It boasts a rechargeable battery, excellent gesture control, and a small profile.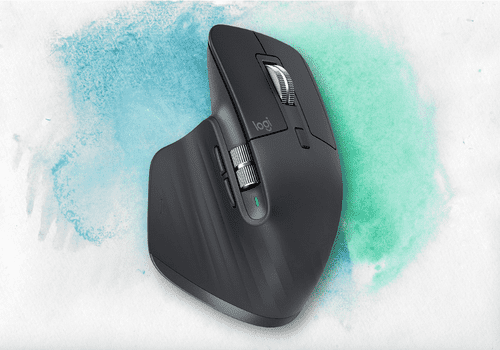 Due to this mouse's high spec features and popularity, it's the best mouse for photo editing tasks in the market, it's a high-end mouse with great quality.
The MX Master 3 makes the most of its broader right-handed profile by stacking eight buttons on an easily portable, ergonomic design.
The tactile scroll wheel, which is now made of machined steel and incorporates Logitech's MagSpeed electromagnetic technology for fine control while scrolling uniformly or incredibly quickly when in free spinning mode, is located next to the major clickers.
According to the rolling force used, the magnetic scroll wheel essentially adapts to the free scroll or ratchet. Users can still manually change between them by hitting the corresponding button behind it.
Additionally, it can appear over-engineered (which is likely one of the reasons it's one of the best), but Logitech's designs incorporate magnets, which make scrolling easier than with standard designs and improve feedback when rolling over content.
Thankfully, they moved the two big buttons that were previously placed next to the horizontal scroll wheel to improve the Master's profile.
Another benefit of this mouse is the program's ability to customize scrolling for certain apps, assign macros, enable/disable gestures, and get low-battery notifications. No precise DPI number may be added, however a sensitive slider allows for small modifications between 200 and 4000 DPL.
Access to a cross-platform tool and Flow, which facilitates working seamlessly between Flow-enabled Linux, iOS, Android, macOS, and Windows, is also provided by the Logitech options.
The ability to interact with and move content between platforms with a single mouse might be a very helpful tool for power users who divide their work among several different platforms.
Although the mouse is relatively pricey, it is worthwhile. The software and hardware improvements made by Logitech over numerous generations are intended to meet the demand of their consumers and fans. Some people could find its weight to be rather hefty, and left-handed users may find the non-ambidextrous design to be very upsetting.
Why we Love it
This mouse is one of our favorites because it has a ton of functionality in both its hardware and software.
Although it's wonderful for quick scrolling, its software also has several additional capabilities that let you use gestures, establish settings for specific apps, assign macros, and even get notifications about your battery level.
In summary, the MX Master 3 is the finest mouse for content producers looking to purchase a mouse for productivity purposes in their home or even in their office or studio.
What are the Features?
It permits quick scrolling.
The mouse has undergone substantial engineering to fulfill user needs.
It can configure changes particular to an app, adjust scrolling, or even activate or disable motions.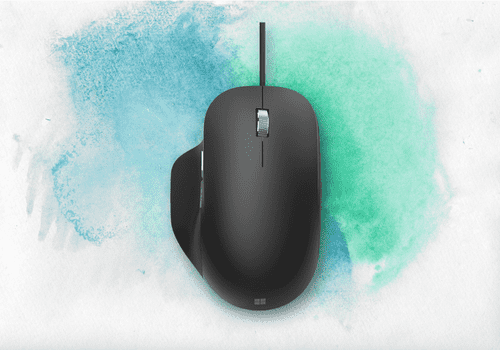 The usage of a decent and quality mouse is essential for the time-consuming task of editing videos and photos. In order to facilitate the task, it would be advisable to make sure your new mouse is as ergonomic as possible.
Fortunately, getting these simple mice for comfort while working as a content creator doesn't necessitate breaking the bank. The Microsoft Ergonomic Mouse, which is the finest alternative for simplicity, has a less revolutionary design than some other premium mouse, but it is far less expensive than those on the market.
However, it boasts a roomy thumb rest above which are two thumb buttons for easy access to shortcuts. A metal scroll wheel gives it a bit of distinction and elegance, and the 1000DPI tracking sensor is accurate enough for all but the most demanding video games.
However, keep in mind that because it is a wired mouse, it works best when used with a desktop computer where you are less likely to miss having a wireless mouse.
Why do we Love it?
Despite being a wired mouse, this one is currently among the best ergonomic mice available. It includes a thumb support for comfort when performing repeated movements that strain the thumb.
A 1000DPI tracking sensor and a metal scroll wheel completes the whole package.
If you're a content creator who spends a lot of time editing videos and photographs for YouTube, Instagram, or even a podcast, the mouse is the finest option.
What are the Features?
A 1000DPI tracking sensor is included.
There are 5 buttons.
A wired USB 2.0 Type-A connection is included.
Users who are right-handed can utilize it.
It has a metal scroll wheel and an ergonomic shape.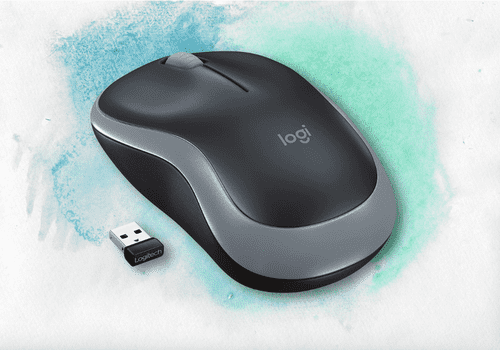 If you're on a tight budget and only need a cheap and simple mouse to offer you a better feel at work, this one might well be the ideal option for you. Editing photographs for Instagram with a basic trackpad is difficult.
The M185, which measures just 99 x 60 x 39mm and is ergonomically made to fit in either palm, is an unequaled travel-friendly mouse.
Therefore, as the M185 uses a 2.3GHz wireless link with a 10m range, you won't even need to be disturbed by cable or connected connections.
The device is so energy-efficient, though, that a single AA battery can power the mouse for up to a year, and the USB wireless receiver is so little you might not even see it.
Unfortunately, this mouse's main recognized flaw is the absence of thumb buttons, which may also restrict your ability to create unique mouse shortcuts in photo editing software.
Why we Love it
One of the greatest mice for editing images as a content producer and influencer on social media sites like Instagram is this one. It is basic, affordable, simple to use, and incredibly comfortable.
Because it is wireless, the M185 has a 2.3GHz wireless link with a 10 meter range, which greatly improves movement and workflow.
For content producers who don't want to spend a lot of money or time on a high-end mouse, we nevertheless suggest this model.
The Logitech M185 Wireless Mouse can be your best option if you require a cheap and basic mouse.
What are the Features?
There are three buttons included.
It has a 2.4GHz wifi connection built in.
Its sensor has a 1000 dpi resolution.
It has an ambidextrous design and is compatible.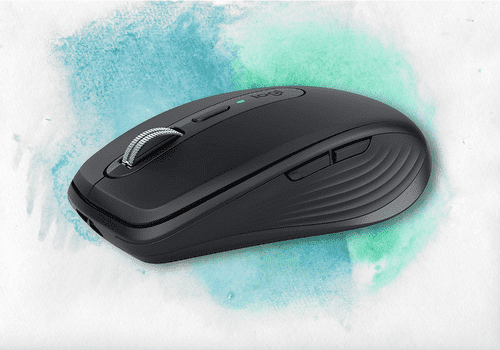 If you're a content creator who enjoys traveling or if that describes your niche most accurately, this mouse might be the perfect option for you.
Consider the MX Anywhere 3 as the MX Master 3 in a more compact, portable form. It has six buttons and almost all of the features of the other high-end devices.
Consider the fact that it has the electromagnetic scroll wheel feature, good build quality, a long battery life, as well as the productivity-focused features and broad system compatibility offered by Logitech.
When the single scroll wheel and either of the side buttons are simultaneously pressed, the mouse retains its functioning despite losing the side-mounted horizontal scroll wheel. It is simpler to move about and use in crowded spaces due to its smaller size and 99g/49oz weight.
Although the mouse lacks a storage space for the dongle, you'll either have to leave its receiver plugged in your PC or carefully pack it while on the go.
Finally, the MX Anywhere 3 mouse is inexpensive for a compact yet high-quality travel mouse. Purchasing this mouse will cost you less money than purchasing many other mice of comparable quality.
The older model also uses an outdated micro-USB connector for charging and features a tilting scroll wheel.
In terms of design and features, it also differs slightly from the most recent model, but aside from that, it performs almost as well in everyday computing.
Why we Love it
Compared to its previous predecessor, the MX Master Anywhere 3 is both less expensive and far more suited. It possesses the high-end features of its larger brothers but is considerably less expensive than them.
Because of its many high-end features and low cost, we adore this mouse.
Compared to other mice of similar grade in the market for creating content, the mouse is not too expensive.
What are the Features?
Left-handed content creators will appreciate it.
It backs ergonomically sound design
Its battery life is excellent.
Factors To Consider Before Buying A Mouse For Content Creators
Having a good mouse for editing content is as important as having a good keyboard for blogging for bloggers. It is one of the tools you will be using a lot!
Before purchasing any mouse, there are a number of things to take into account in order to reduce your workload as a content creator. Let's examine each of them individually below.
Ergonomic Features
It is essential to have in mind that you need to budget a mouse that you are comfortable with before purchasing any mouse described in this tutorial or elsewhere.
It is advisable to purchase a mouse you are always suitable for using because you know you'll be using it more frequently while working.
This will make your job as a content creator a lot easier.
Is It Wired or Wireless?
You must be certain whether you require a wired or wireless mouse. Although the wired mouse is far less expensive than the wireless mouse, moving it about can be unpleasant and messy.
Additionally, the wireless mouse may occasionally experience latency and connectivity issues, which can be irritating to use. A wireless mouse frequently has the potential to disrupt neighboring wireless networks.
Additionally, since batteries are needed, problems could arise if a battery runs out of power. When choosing a new mouse, consider whether you're searching for comfort or convenience.
If you use the same mouse for your home and work computers, you run the danger of losing the tiny USB receiver for your wireless mouse as you commute to and from the office.
Final Thoughts
As a content creator, purchasing a mouse is a great idea, but it is recommended that you should run a little research and establish a budget before buying any mouse. However, we've given you a brief guide that will assist you in making the right decision before purchasing any mouse.
Do you believe a cable or wireless mouse is better for your work as a content creator? Kindly share your comments below.
If you enjoyed this article, sign up for our newsletter to be notified when we publish new and interesting material like this one.