Whether you're a content creator writing or editing videos for your blog or social media platforms, having a good keyboard is essential to have a comfortable typing experience.
And since there are several options on the market, you need to understand the most essential features to consider when shopping for a keyboard and what makes one the best choice.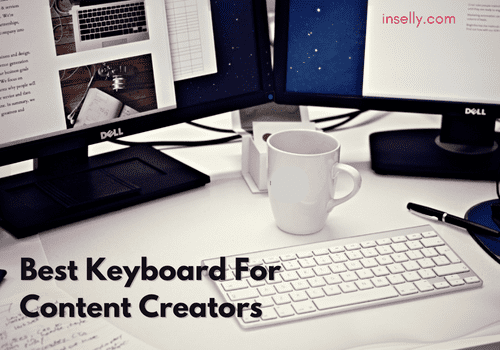 TL;DR
: If you are in a rush, in our opinion the
best keyboard for content creators is the Logitech K780 Multi-Device
overall specially if writing is your main task.
If you focus a little more on video editing then Logitech's Craft is a good option but for those who are always on the go the Apple Magic Keyboard will be best for you.
A good keyboard will let you type better and faster and offer you more focus on the job.
In this article, we'll let you into our carefully handpicked best keyboards for content creators and what factors you need to take as your buying guide.
Best Keyboards For Content Creators, Writing & Video Editors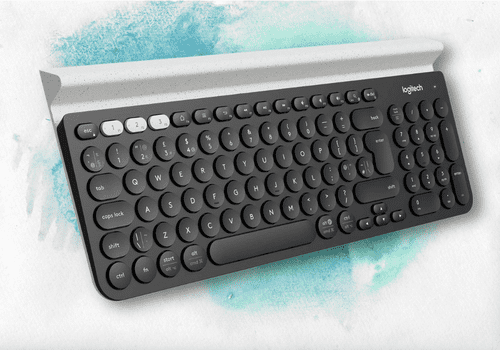 With a soft matte finish and high responsiveness for touch typists, this Logitech keyboard gives you all the tactual sensation you can feel from a keyboard when typing. And since it's highly responsive in terms of typing speed, you can easily feel it from your typing when your typing speed increases.
This product tops our list for so many reasons. For one, if you're a marathon writer with a high sense of professionalism, Logitech K780 keyboard will let you type fast and comfortably using its full-sized quiet keys and accessible number pad.
And if you're searching for a multi-device keyboard, this keyboard lets you pair your keyboard with multiple devices like your computer, tablet, or smartphone, all with just one keyboard. You can also use the keyboard on different platforms such as Windows, Chrome OS, Mac, Android, and iOS operating systems.
Additionally, with its simple easy-switch button, switching between devices is like a breeze. On top of that, the product comes with a stand for holding your tablet or phone. Plus the battery has long life durability.
But there's one drawback here: it doesn't come with a backlit, which means you may not like it if you're looking for a keyboard that lets you type in the dark. Other than that, we believe this product has more advantages than the few cons anyone can find with a keyboard.
Overall, this is our top choice for content creators and writers looking for the best wireless keyboard on the market.
2. Logitech Craft – Best Keyboard For Video Editing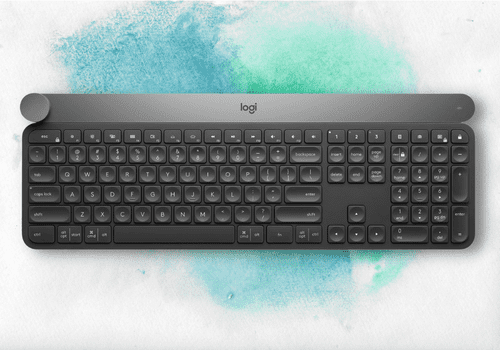 Have you ever wanted to have the best keyboard for your video editing? Whether you're trying to upload your next content to Instagram, or YouTube, and carry out other similar activities on your keyboard, Logitech's Craft is all you need.
With amazing features such as a multi-functional dial, ergonomically designed keys, and hand detection, this keyboard comes with lots of perks that make it worth your money.
For video editing, for example, one of its features that you'll like is its signature feature known as the "Crown". This lets you make adjustments to settings in Adobe Creative Suite apps (and even in the Microsoft suite apps) like Photoshop, Premiere Pro, and Lightroom classic.
When it comes to the multi-functional dial feature, this offers you total control in terms of editing functions like contrast, zooming, brightness, and more, all of which you can do by simply tapping the dial.
Apart from the ergonomic and fluid control interface that the Craft offers, this product works seamlessly when paired with a PC or Mac and it lets you switch effortlessly between up to three devices.
Also, this wireless keyboard comes with a backlit feature and other perks such as Bluetooth, a built-in rechargeable battery, and more.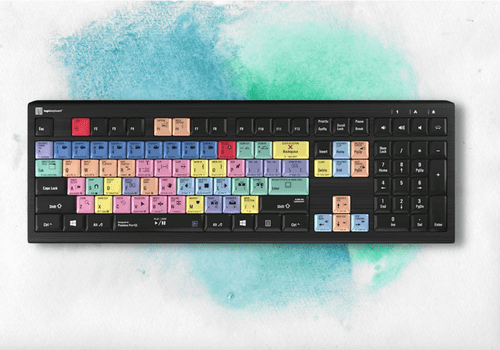 LogicKeyboard is another great option for content creators looking for a keyboard designed for a wide range of popular video editing software packages, including After Effects, DaVinci Resolve, Final Cut Pro, and many more.
As for using this keyboard in the dark or low lighting environment, LogicKeyboard has a five-level backlighting feature that takes care of that already.
So you don't have to worry about whether your environment has a low light or not when typing.
Most interestingly, this Astra Premiere Pro keyboard comes with a USB 2.0 hub on the back of the keyboard that lets you connect it with other devices or use it on your Windows or Mac.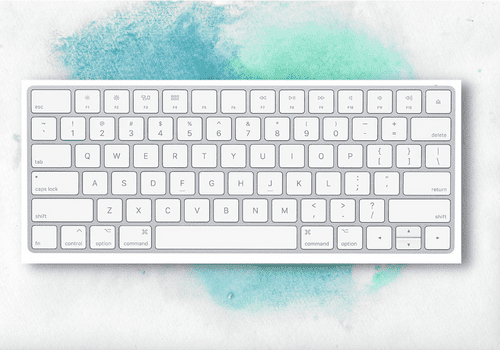 The Apple Magic Keyboard is undoubtedly what it sounds like. Mostly for writers and content creators looking for a keyboard they can easily fit in their bag and start typing on the go, this is your best option.
The keyboard has an elegant design with a long-lasting rechargeable built-in battery and enhanced key features.
Apart from the fact that it pairs seamlessly with your Mac, which lets you get to work right away, the battery's long-lasting life means you don't have to worry about charging the keyboard for about a month or more between charges.
On top of that, the Apple Magic keyboard is compatible with PCs and iPad.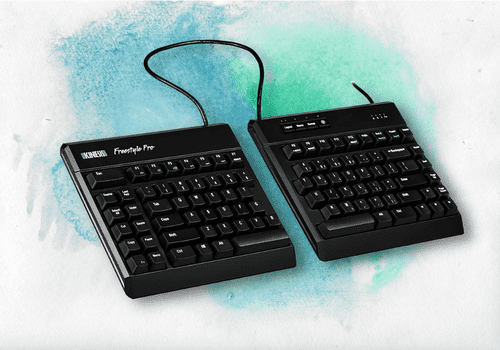 The Kinesis Freestyle Pro isn't just a keyboard for basic typing functions; it also offers several programming options that make it the best choice for any tech-focused writer.
If you're a tech-focused writer, the Kinesis Freestyle Pro might be an interesting keyboard for you as it has lots of programming options in addition to its basic typing functions.By this, it means you can easily make adjustments to its setting to suit your typing needs, leveraging its customizable cable.
With mechanical switches for enhanced typing feel and performance and full onboard programmability, Kinesis is all you need to get the job done.
Kinesis is designed to help you avoid strain on your wrist or on the muscle of your arm, which arise as a result of long typing.
And above all, the keyboard is compatible with Windows, Max, Dvorak, Linux, Android, and Chrome, making it easy to switch between different operating systems.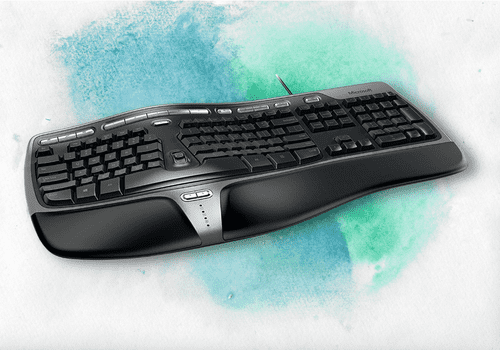 If easing the tension on your wrist or maintaining absolute joint and muscle health is one of your major concerns about using a keyboard, the split sections design of the Microsoft Natural Ergonomic Keyboard 4000 is designed to help you with just that.
With a world-class design, this keyboard has a cushy padded palm rest to support your wrist and allow your wrist to rest in a neutral position thereby easing the tension on your wrist and muscles when typing on your keyboard.
Particularly for a content creators using the Windows operating system or binge-typing, this ergonomic feature makes this keyboard your best choice.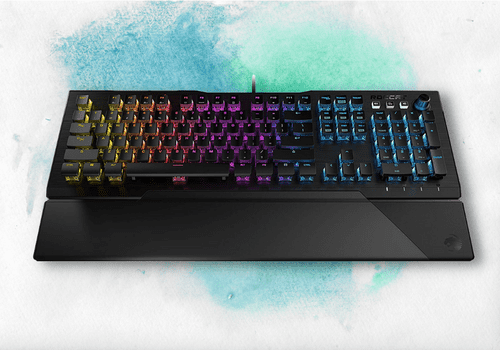 From the sturdy construction to fast keys, and from silent keys to lightweight, there are so many features to cherish about this keyboard. Apart from the elegant look and feel Roccat Vulcan keyboard offers, the fact that keys (Roccat Titan Switches) are, as claimed, 20% faster than any other mechanical keyboard available, makes this keyboard the best mechanical keyboard on the market.
Above all, for writers who like to work on the go, the Roccat Vulcan keyboard has keys designed with optimal bounce back and an aluminum top plate making it easy for you to carry it around.
But be ready to pay an extra dollar for this keyboard, as it's very relatively expensive.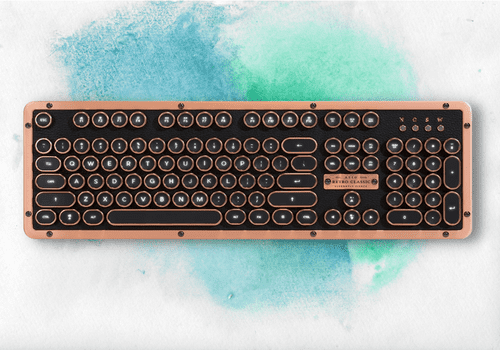 Can you still remember the clicky clack of the keys of Ernest Hemingway's typewriter in those days? In case you've forgotten, the Azio Retro keyboard will remind you about that experience.
But again, if you're passionate about blogging or see typing as a passion rather than another sort of horrible task, you're most likely going to like this keyboard.
As for us, we believe typing should be more of a passion than a hobby and it takes a keyboard like Azio Retro to have that cool typing experience.
And for the exciting features that this keyboard offers, these include Bluetooth (for wireless connection), compatibility with Mac and PC, and many more great functions.
However, the only drawback, this product is a bit pricey.
Buying Guide To Choose The Best Keyboards For Content Creators
Getting a good keyboard is not enough, you would definitely need a good mouse to pair it up with and if you are a content creator (writing or video editing) on the go, you will also need a decent laptop for blogging.
In this case we are focusing on the best keyboard for creating content, so if the options above are not helpful enough to decide, we are going to help you decide below.
When you're set to start shopping around for a keyboard, below are the most essential factors to consider:
Type Of Work
Start by defining what features you need most in a keyboard. By considering the kind of work you'll be doing with your keyboard you can't go wrong making a buying decision.
Do you use your keyboard for gaming? Or are you a marathon writer, who types all day through? Does your work involve working with numbers?
Take all these into consideration as you're about to choose a keyboard for yourself.
Keystrokes (Switches)
If tactility is a factor you value the most, you must check and test how your keys feel before selecting your keyboard.
And this is where the switch comes in. From rubber dome switches to scissor switches, and mechanical switches, there're different types of switches to consider.
Compatibility
With PS/2 ports going into extinction, it's essential to consider your keyboard compatibility in terms of connecting to the computer.
Fortunately, most keyboards nowadays connect to the computer via USB ports. While wireless keyboards connect to the system via Bluetooth, setting it up tends to be tricky.
In short, take compatibility with other devices into consideration when shopping for a keyboard.
Design
Design is can be what makes most people tick. With different types of keyboard designs out there it can be confusing when shopping for a keyboard.
Learn about all the options available such as standard, gaming, and ergonomic, before taking the plunge.
Also, be sure to consider portability and backlighting features.
Wired vs wireless
Both wired and wireless keyboards have their pros and cons. For example, wired keyboards are best for gaming as they don't lag.
But they're a bit expensive to maintain, due to the high cost of replacement.
As for the wireless, it cuts out the cord and declutters the space in your room.
The drawback? They can interfere with other wireless devices.
Durability
Don't forget about the durability of your keyboard. Typically, mechanical keyboards are known for sturdy and reliable design.
So choose a model that offers you durability and sturdy design.
Price
Price is a function of how many features your keyboard offers. So the more features it incorporates the more expensive it becomes.
Most importantly, you should factor in your budget and needs before choosing a keyboard.
Conclusion On Best Keyboards For Content Creators
So there you have our list of the best 8 keyboards for content creation, writers and video editing.
While this list has some of the best keyboard options available on the market, be sure that any choice you make fits your writing needs and goals.
And you'll never regret what you did.