As a vlogger and influencer you definitely need a great tripod, they are really useful for keeping your camera or phone still while filming or when you are alone and want to take a video of yourself.
But, how do you choose the right vlogging tripod stand as a YouTube or Instagram vlogger? What qualities of a tripod make it an ideal fit for your needs?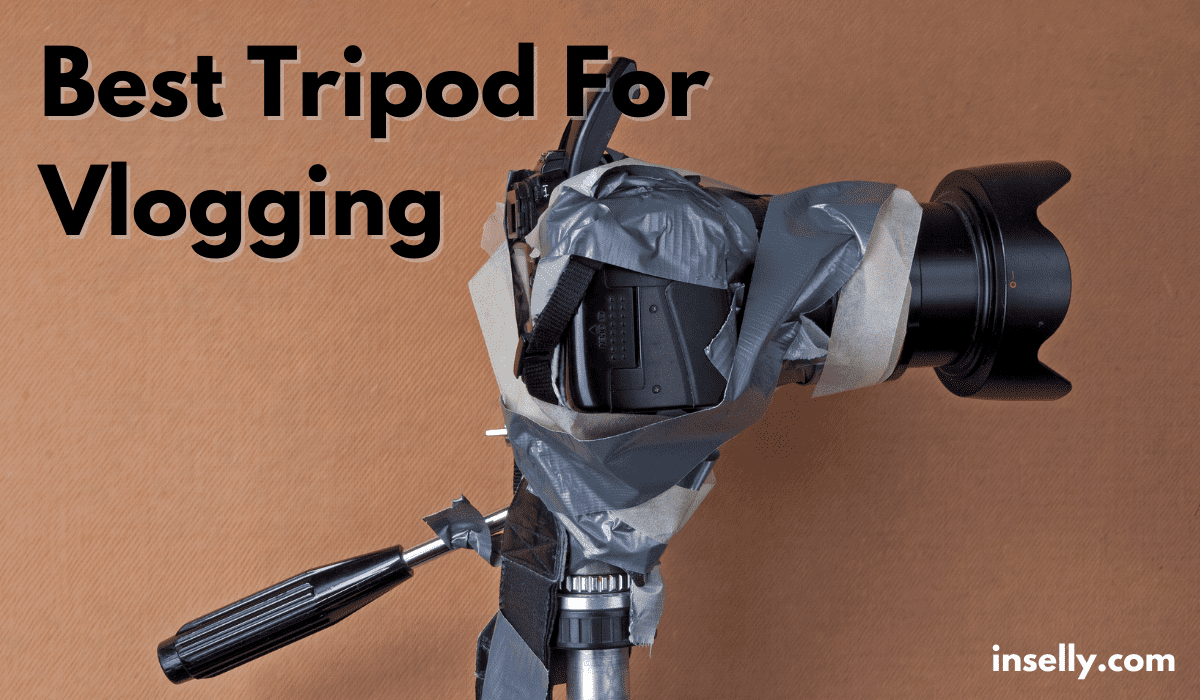 And, what are the best tripods for vlogging that you can confidently buy right now?
Best Vlogging tripods for Influencers and Vloggers:
We are going to address all those questions effectively in this article, so stay with us till the end.
Let's start with the review for best tripod for vlogging!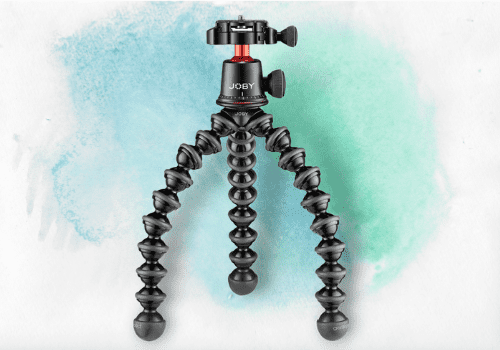 The best tripod for vlogging in our opinion is the Joby Gorillapod. This tripod is perfect for almost any normal circumstances. It is not expensive and is definitely the best option if you are just starting vlogging and just want to upgrade your vlogging setup.
One of the most important features of a tripod is its ability to adjust on different surfaces. And, this one is pretty versatile in that sense.
You can place the Joby Gorillapod anywhere pretty easily. It can stay on round surfaces, trees, railings, and any places where large tripods won't.
It's durable, the joints remain stiff and like-new even after months of use. The sockets are made of aluminum, which makes this Gorillapod sturdier than most.
Also, it's lightweight and so easy to carry around. On top of that, it can easily support up to 3kg of camera hardware. However, because of the small size, this one isn't suitable for large cameras.
But, if you have a small camera, it checks all other boxes of a perfect tripod.
Pros: Lightweight and easy to use on the move, Durable aluminum sockets, Durable joints, Flexible and very versatile (fits on a variety of surfaces)
Cons: Only suitable for smaller-sized cameras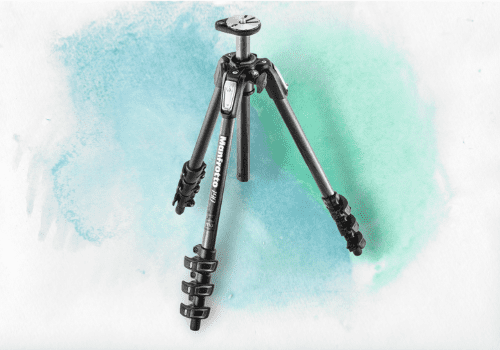 Our second recommendation in the Manfrotto Carbon Fiber tripod. This is the most suitable for adventurers or seasoned vloggers. It comes at a higher price but its quality and versatility to adjust to different places makes it worth it.
This one is a mid-weight tripod stand that comes with a gimbal head. The head allows the stand to keep your camera steady even in light to moderate wind.
This tripod is particularly helpful when you are shooting a video outdoors.
Setting it up is a breeze too. The solid power lock system of the tripod makes things easier for you. So, if you intend to frequently change your camera position, this feature will be helpful. Its vertical column is rotatable up to 90 degrees, providing flexibility in shooting.
With this tripod you can even expand its legs and place your camera pretty close to the ground. This can be helpful when you have to place your camera almost parallel to your face. However, it's not the lightest. But, it would be fairly easy to handle.
As mentioned before, the price of this tripod is higher compared to other options but considering its features, it provides great value for money.
Manfrotto Carbon Fiber Black Tripod
Pros: Sturdy construction, Solid power lock system makes set up easy, 90-degree rotatable vertical column, The gimbal head keeps the camera stable
Cons: High price!, Not the lightest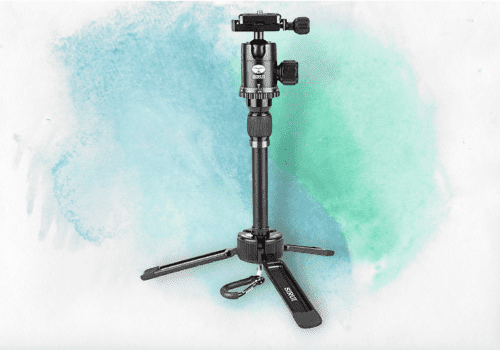 This Sirui handheld tripod is one of the best small-sized tripods for vlogging and it is a great option for Travel Vloggers or for those who are mostly on the go.
One of the most important features you want to have in a vlogging tripod is its longevity. This one has a metal construction, so it checks that box easily.
Its center column is removable, which allows you to get more stability with a shortened height. The feature is great for people who vlog outdoors amidst windy conditions.
Plus, courtesy of its small size, it can easily fit into a small camera bag or a jacket pocket.
It also won't slip because of the rubber endings on the legs.
One of the downsides is its legs, which can be too short for heavier cameras but again, this one is also one of its advantages, you can bring it anywhere. So, this tripod is great for certain conditions.
Sirui Handheld Tripod With Ball Head
Pros: Durable with solid metal construction, Removable center column, Suitable for lightly windy conditions, Rubber endings on the legs provide stability
Cons: Legs can be a little short for some people
How to Choose the Best Vlogging Tripod?
Whether you are a professional vlogger or are a new vlogging enthusiast, a good tripod stand should be part of your vlogging arsenal.
The right tripod will not only make things easier for you, but will also improve the quality of your YouTube or Instagram videos.
Having a good tripod is a important as having a good camera or a great microphone for vlogging. Having at least these 3 items as part of your setup will improve the quality of your content.
But, it's important to make sure that you put your hands on the right one. With so many options out there, it's easy to get distracted and choose a below-par tripod.
Let's tell you the qualities of a great tripod and help you make an informed decision.
Quick Release Legs
This one is an important aspect to consider if you intend to collapse and set up your tripod frequently.
You don't want to go through the hassle of opening a stiff rubber twist lock on the legs. It will just slow you down.
So, having quick-release legs on a tripod is important, especially for professional vloggers.
Ball Head Adjustment
The first thing you do after adjusting your tripod for a video is position the camera on its ball head.
While it may depend on your preferences, you may want to record your videos in the landscape as well as portrait mode.
Shifting between the two modes can be a hassle if the ball head is not that flexible.
So, you want to make sure that the ball head provides quick transitions between portrait and landscape mode.
Weight and Size
If you want to be a professional vlogger, you might want to take your camera out for outdoor video sessions.
If that's the case, you will have to take into account the weight and size of your tripod stand.
So, if you intend to move frequently for your video shoots, you want to get a tripod that's small and lightweight.
But, if you think you will just be setting up your tripod once and most of your work will be indoors, a heavier or bigger tripod won't be a bad choice either.
So, in the end, the right size and weight of your tripod will depend on your needs.
Value for Money
Generally, you don't want to shy away from investing a fair amount of money into a good tripod.
But, it's a good idea to see if the tripod offers enough value for the money or not.
Plus, see if you can save a few bucks on a relatively cheaper one without compromising on the quality and features.
Even if you are a hardcore vlogger, you will eventually have to replace your tripod in two to three years. Which is not exactly the same as if you choose a good laptop for blogging, a good laptop will last longer than that if chosen right.
So, why bother spending through the nose to own the best of the kind?
Our suggestion would be to look at the features and see if they can fulfill your needs. A mid-range tripod will almost always be a good enough option.
Sturdiness
Of course, you wouldn't want to spend on a tripod that can't hold up for at least a year. The sturdiness or durability of a tripod is probably its most important trait.
Its only job is to hold your camera still, right? So, the majority of the job is mechanical, which requires it to be sturdy.
Ideally, you want a tripod with metal construction. But, those aren't always affordable. If you are going with a plastic one, make sure it can hold your camera equipment with ease.
Height Adjustment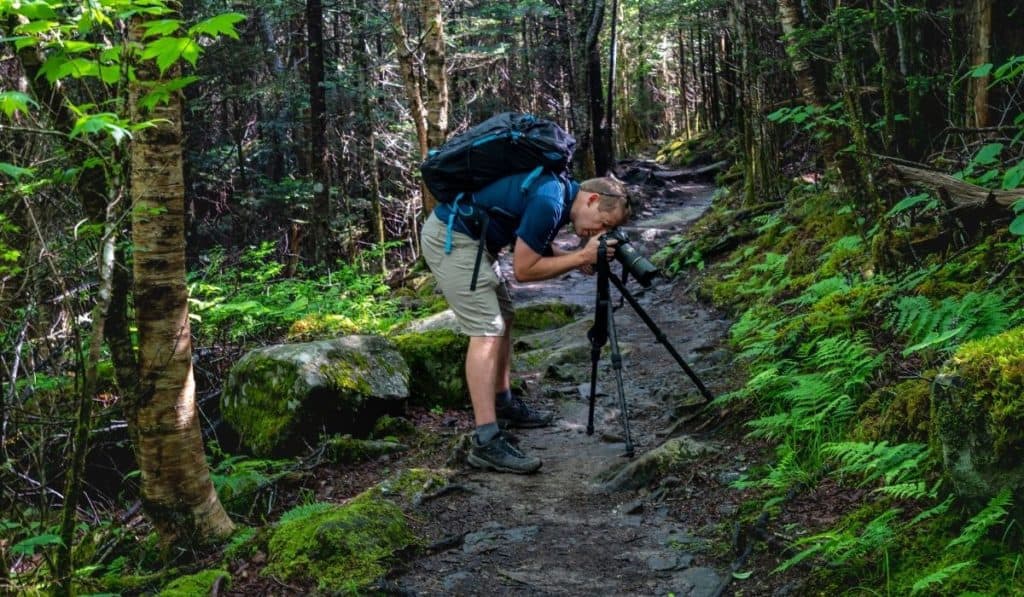 You may also want to adjust the height of your camera depending on your requirements. Some tripods even have the ability to sit 90 degrees with the ground.
So, the height adjustment feature could be a plus point.
Compatibility with DSLRs and Mobiles
This one is easy to overlook; you want your tripod to hold your phone or DSLR camera effectively.
Every tripod comes with a mobile holder. It's a good idea to make sure that the holder is universal and can hold your phone or DSLR (whichever you use) effectively.
Stability
If you are an outdoor vlogger, you need a tripod that can provide the required stability to your camera.
You don't control the weather, but what you can do is, get a tripod that doesn't budge amidst windy conditions.
Of course, the stability of your camera is also important when you are vlogging indoors.
To improve the stability in your pictures you should also consider getting a remote shutter for iPhone, Android or whatever camera you are using.
They will come in handy when you have placed the tripod and camera in the right place and a slight move could make your tripod fall.
Final Thoughts For Best Tripod For Vlogging And Influencers
This was all about choosing the right tripod for your vlogging needs. We have also reviewed the three best vlogging tripods to help you choose the right one for yourself.
Before reaching for your wallet, it's a good idea to think about your needs and budget. Ask yourself:
Do I want a tripod for outdoor use? (Stability)
Should my tripod have adjustable height?
What's the size of my camera device? (Phone and DSLR holders)
How often will I move my camera? (Weight, size, and ease of set up)
Asking these questions will help you filter out the right tripod stand for your vlogging needs. A well-informed decision is what you should be striving for.