Are you ready to up your Instagram game to another level? Worry no more! In this article, we will share the knowledge and skills on how to take Instagram pictures of yourself. 
Contrary to popular belief, a lot of Instagram's content creators didn't actually rely on personal photographers or friends to take a photo of them.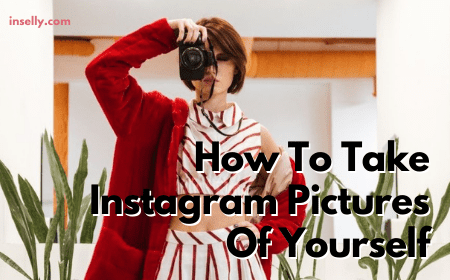 Most use photography skills learnt on the internet, or self-discover skills to churn out amazing pictures on the 'gram.
Equipment you will be needing to take Instagram pictures of yourself:
Besides, in the world of creativity, embracing oneself and self-love, doing things on your own is highly encouraged and empowered.
Thus, you too can refine your photography skills so that you can take Instagram pictures of yourself at any time and places.
Tips To Take Awesome Instagram Pictures Of Yourself 
1. Choose A Cool Background
Set up your shot. Place your phone in a position where you can control the background and the lighting however you want.
Always choose a background that matches your outfit. This tip is highly recommended by Instagram gurus. The last thing you want to see in a picture is you clashing with your background.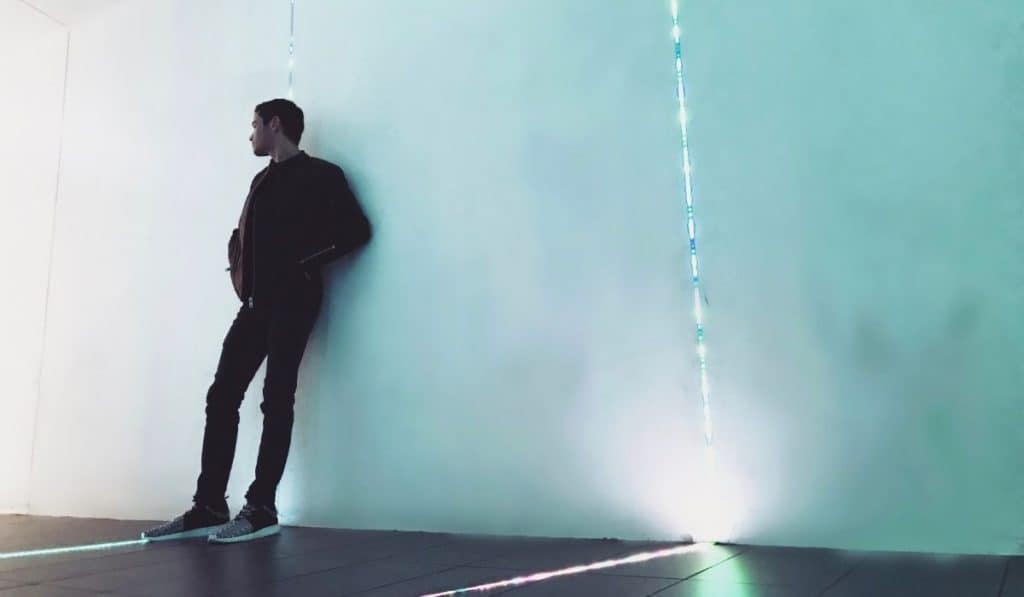 To be safe, always go for a plain background like white or beige, especially if you are a newbie.
Nothing can ever go wrong with a plain background, not when you're just taking pictures of yourself; nor when taking pictures for male and female friends.
Once you're familiar with the color concept, then you can try to be adventurous and go for a different color background. 
As for the lighting, wait for the golden hour if you're planning for an outdoor shot.
The golden hour is the perfect lighting for an Instagram photoshoot thanks to the sun's gorgeous soft light. It's also called the "magic hour" by photographers and cinematographers. 
Your skin tone will look gorgeous in the pictures; and you'll be surprised at how many people will think it was taken by a professional.
2. Use A Timer Or Record A Video
Most cameras and smartphones have self-timers, which is good for moments like this.
Hence, put your equipment self-timer to good use by setting it a countdown that works for you. Otherwise, the pictures will come out looking blurry and weird.
This process might prove difficult and time-consuming, so we recommend recording a video instead.
By recording a video of you posing, at least 1 second for each pose, you will get more flexibility to pose without worrying about the timer going off.
This way, you can try out many different poses for as long as you want. Then, you choose the best pictures during the post-production i.e. editing. Just pause on the pose you love and save it as a still picture. 
Pro-tip: if you cannot afford a tripod, simply place your phone or camera on a flat surface and use your bag as a resting shield to protect it from falling. This works in place of a tripod.  
3. Try Out Different Poses
We cannot emphasize this tip enough! No one wants to go back home after hours of shooting only to realize that you did not take enough pictures as you'd like.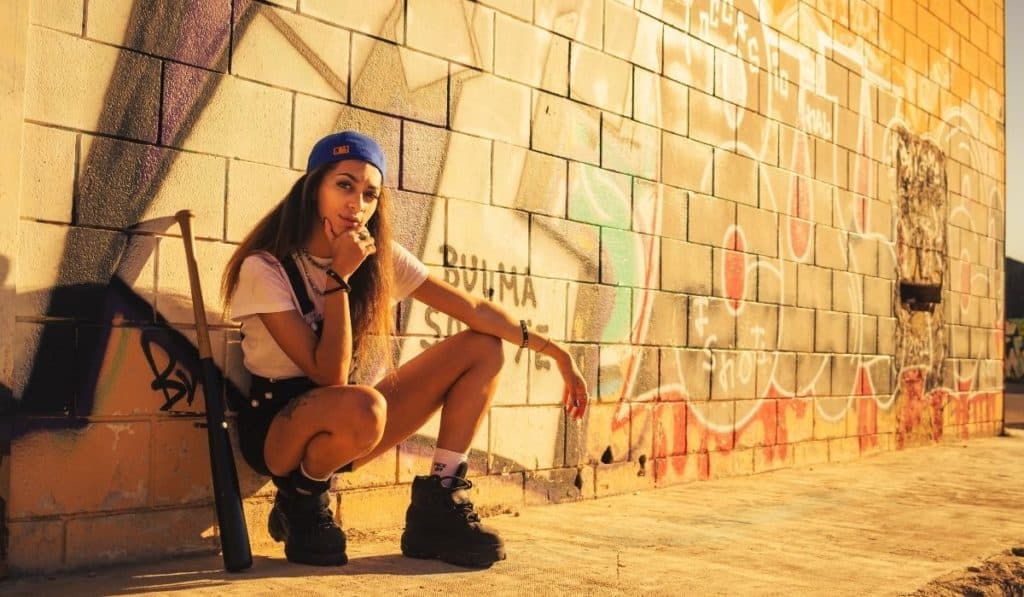 Please utilize all the time you have and put it to good use. Do not be afraid to look awkward, especially if you are taking pictures of yourself in public. Trust us, you will get better from all those practices. 
In addition, prepare your poses ahead by seeking inspiration on Instagram or Pinterest. You can find tons of street photography ideas for inspiration on these sites.  
4. Shoot In Batches 
If the photoshoot is to be done outdoors, best to plan the photoshoot in batches. This in turn will save your time because you end up having a week worth of Instagram content all in one day.
For most Instagram baddies, they prepare for a photoshoot by taking different outfits and shooting them on the same day.
Think of editorial photoshoots in the studio with top models, they also have a change of outfits. So who says you can't do this too.
It is even better if you have places for changing and can resume the photoshoot immediately. Check how to take pictures of clothes for Instagram to know what angle and pose you can do with all the different outfits. 
Again, all these get better with time and practice. The more you practice, the more you get familiar with it. 
5. Always Check Your Autofocus Setting
One tip worth mentioning is to always check if your pictures are in focus.
Trust us, you do not want to have a photoshoot and go back home only to realize that you were out of focus in literally all the images. That'll be so frustrating!
To avoid this, trust your equipment. Most cameras or phones have an autofocus feature. Check out our compilation on the best camera for Instagram to find one that suits your needs. 
Before start the photoshoot, tap on the screen of your phone or go to the menu of your camera and choose autofocus. This feature is especially great for situations where you're experimenting with different body movements i.e. poses. 
Your device will remain focused on you and help you blur out the unnecessary parts in the background.
Again, don't be afraid to try out different angles. Be creative and spontaneous. You will be surprised with the results you get at the end of the day.
Also, be experimental with the lens placement. That is how usually the best photographs are taken.
Place your lens above you (this angle is called the bird view angle) to get that overhead shot; or place the lens beneath you to give you that long-frame composition.
Conclusion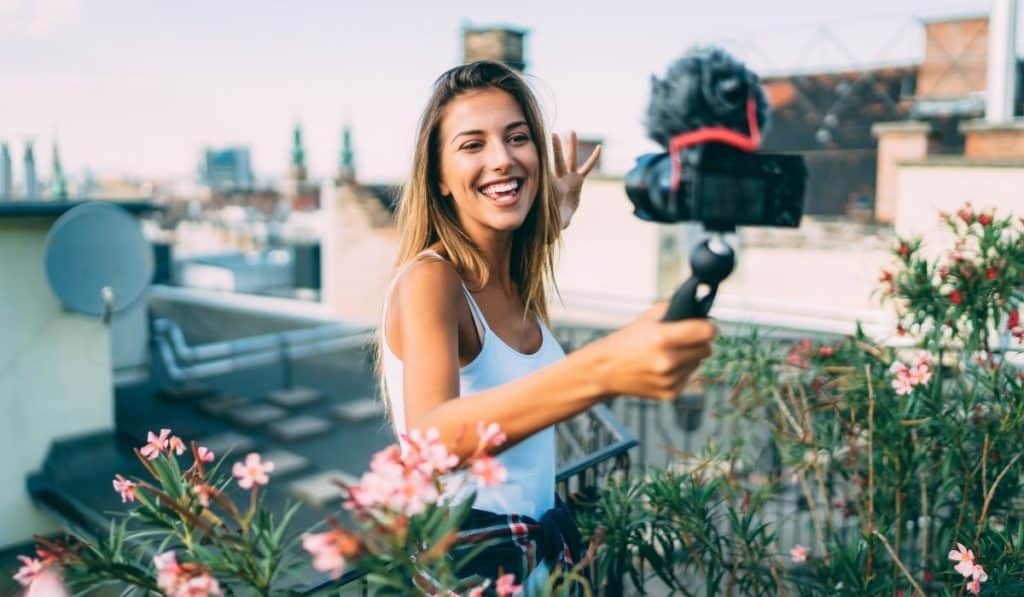 The benefits of learning how to take Instagram pictures of yourself are enormous. It gives you creative freedom where you get to execute your ideas and vision of how you want your pictures to look.
Another added benefit is that you get to try out as many ideas as you like till you figure out which one works for you.
Although it's time consuming to take pictures of yourself; and it can be frustrating to pose in public, remember, when it's you in control, you have all the freedom to try it all.
Ultimately, you will get an Instagram feed that looks attractive and aesthetically pleasing with the effort you put in planning. People will draw onto your page since most Instagram users love following influencers whose pages are visually stunning. 
All in all, try out these tips you just read and repeat! And hope to see you are getting closer to your way of becoming an Instagram baddie!