NFTs are one of the hottest topics in the social media and blockchain space these days.
You can own as many NFTs as you want and can even sell them for great profits.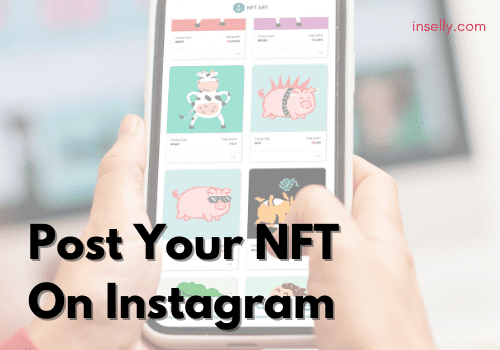 But, if you're reading this, you might be asking "Can you post your NFT on Instagram", the answer to this is encouraging, but it might not be as easy as it sounds.
So, if you're thinking about posting several of your NFTs on your Instagram account, you want to read this article.
Let's get into it.
What Are NFTs?
NFTs or non-fungible tokens are digital assets that cannot be replicated. They can represent a variety of things, including virtual collectibles, digital artworks, e-sports items, or even more practical assets like loyalty points or event tickets.
NFTs are built on top of blockchain, the most popular one for NFTs is Ethereum. The blockchain provides support to validate its authenticity and ownership to each NFT.
Each NFT is one of a kind, they can't be copied or replicated.
Can You Post Your NFT On Instagram?
The short and sweet answer is yes, you can post your NFT on Instagram. But, Instagram doesn't have any blockchain capabilities integrated yet, which means, you can post your NFT but you can't verify its ownership.
The cool thing about NFTs is that whoever is the owner of said NFT can be validated through the blockchain, but if the platform does not provide such feature, uploading your NFT to Instagram is just as, technically, posting any regular picture of your food.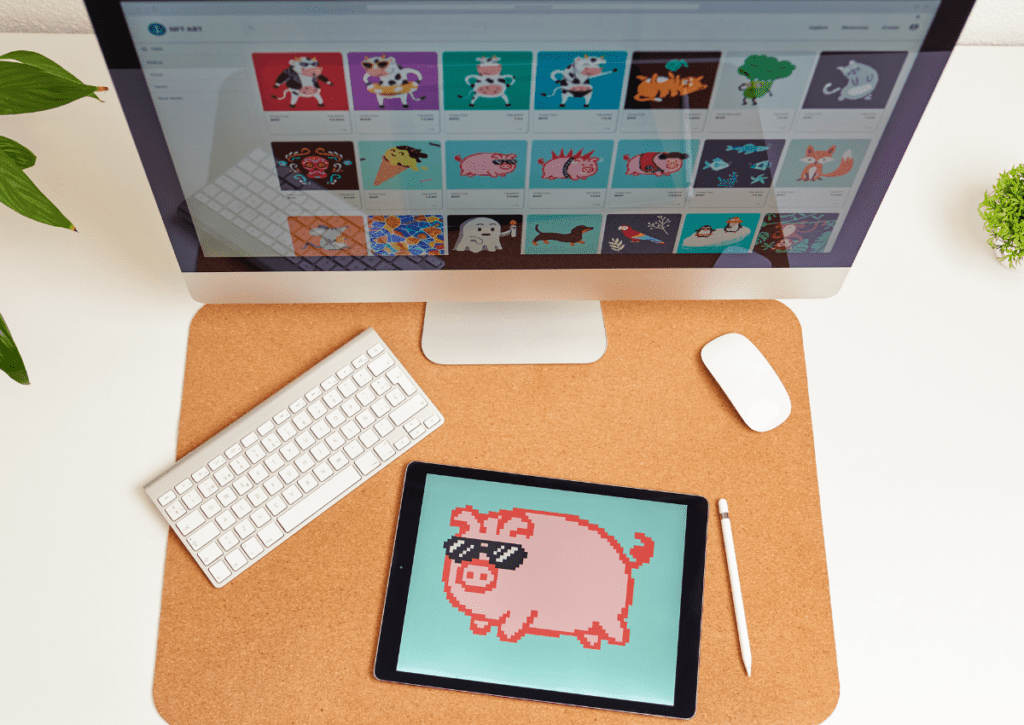 Instagram doesn't have any feature that lets users post their NFTs directly. You'd have to go through a few steps to upload your NFTs on the social platform, which isn't a bad thing either.
But, keep in mind that since Instagram doesn't have this capability as of yet, your NFT won't appear in its best form on it. The app trims and resizes your images so your NFT could lose some of its original elements.
The good thing is that Instagram is working on making NFTs available to a wide audience.
NFTs On Instagram – Digital Collectibles Support
Instagram announced on May 10th, 2022 that they will start testing a new feature with some creators to showcase their NFTS.
The Digital Collectibles feature will support Ethereum and Polygon blockchains on the first version, with Solana and Flow coming next.
As for wallets, you will be able to integrate with MetaMask (most popular one for NFTs), Rainbow and Trust Wallet. Later Coinbase, Phantom and Dapper will also be supported.
This way, once it is fully implemented, NFTs on Instagram will be fully backed by the blockchain and easily integrated into the platform.
How To Post NFT On Instagram
The new Digital Collectibles support on Instagram will allow creators and collectors to share their NFTs and any other digital assets.
Instagram's new feature is not fully implemented, and only a few users will have access to it at the moment so it is not clear yet how to share NFTs but Instagram has given some initial guidelines when the support was announced.
The process to post NFTs on Instagram is:
Connect your wallet
Choose the NFT you want to share
Post the NFT
Instagram automatically tag owner and creator
Done! Instagram blockchain support will validate its authenticity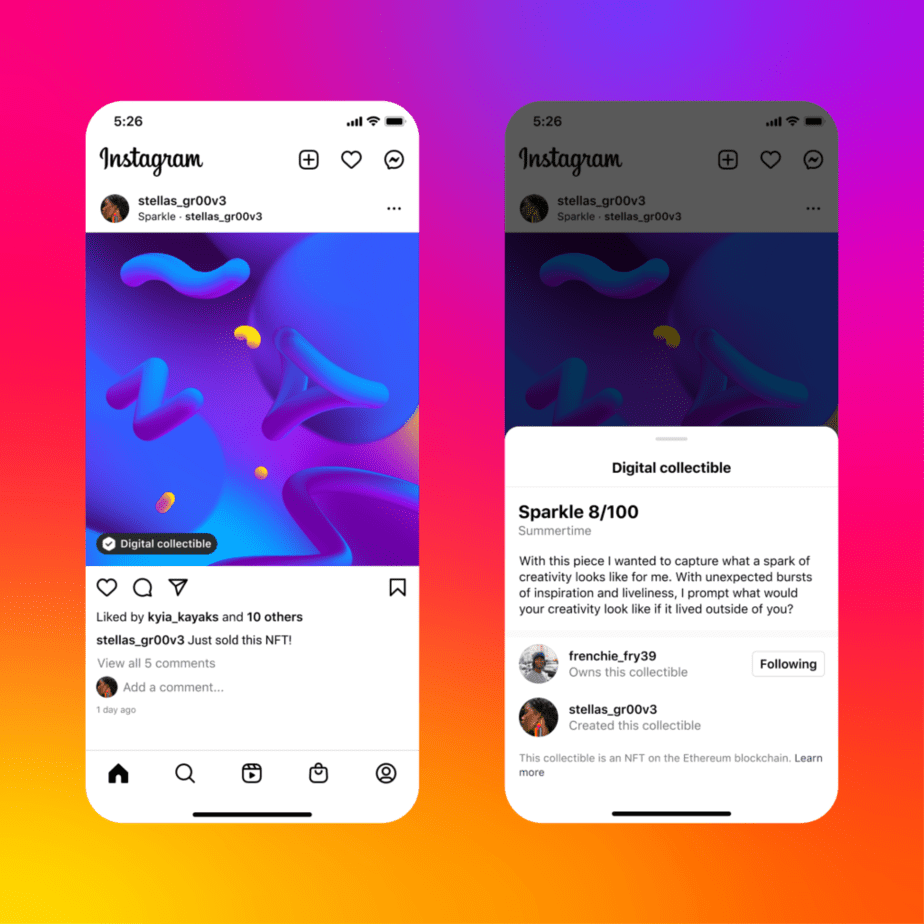 source: Instagram.com
Once the feature is fully implemented, you won't have to worry about sharing your NFT on Instagram since the blockchain support will authenticate the original creator and collector of each NFT.
What About The Ownership Of The NFT On Instagram?
Once Instagram implements proper NFT capabilities to its platform, the encouraging thing will be that any NFTs you upload on Instagram will be yours only.
So, the platform won't have the legal right to use your NFTs. Neither can anyone download your NFT and claim it as their own.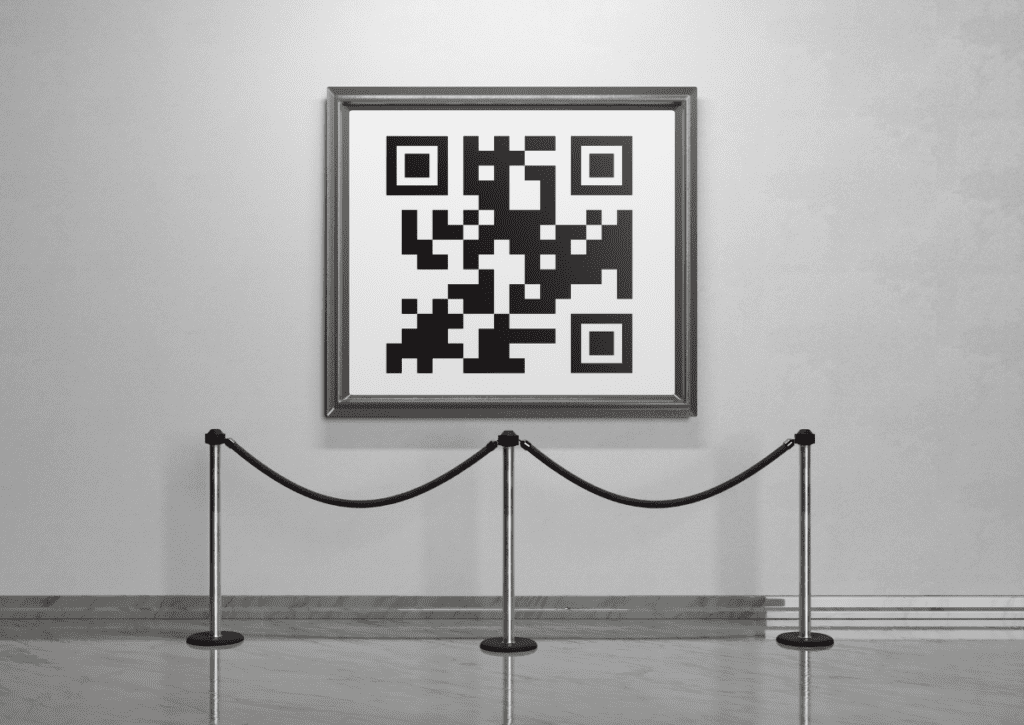 Keep in mind that Instagram might promote your NFTs or images as part of its own marketing strategy, but that doesn't mean it can sell or use your NFTs.
NFTs are typically certified by the Ethereum blockchain, so they are secured. The only way someone can have partial or full ownership of your NFT is if you grant them that right.
Should You Upload Your NFT To Instagram?
While you can post your NFTs on Instagram, it's not a good idea. That's because Instagram isn't currently equipped to handle NFTs in a perfect manner, so you can't verify you are the owner.
If you want to upload your NFTs, there are many other platforms specifically built for that purpose, including OpenSea.
Others include:
Spatial
Cyber
Lazy
And, more
Final Thoughts
Owning a great-looking NFT can be pretty exciting. If you have a decent following on Instagram, you might want to upload your NFTs on your social profile.
But, before you do that, you might want to consider the implications.
So, can you post your NFT on Instagram? Yes, you can do that, but Instagram is not equipped to handle NFTs, so it may distort them.
The cool thing is there are a lot of platforms where you can create your NFT collection. Even if you want your audience to notice your NFTs, you can share your NFT links in your profile bio.