Wigs are no longer items that are only worn during festivals, or by certain groups of people like entertainers.
It is an item that provides freedom and pleasure to be experimental, to express oneself.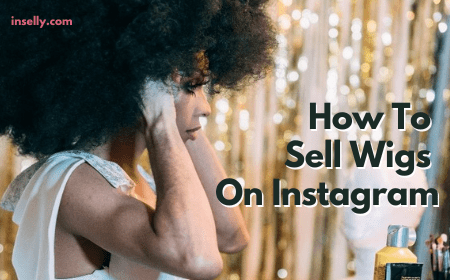 Anyone, including you, can purchase a wig to change your look as you want. With wigs, you don't need to worry about getting a haircut, waiting for hair growth, or damaged hair in trying out a new hairstyle. 
Do you own a wigs business and need advice on how to sell wigs on Instagram? Well, in this article, we will be explaining the necessary steps on how to start your wigs business on Instagram. 
Without further ado, let's get into it.
Why Selling Wigs On Instagram
Well, Instagram is the most popular photo-sharing social media with nearly 300 million active users; and still the fastest-growing social platform in existence.
In general, customers prefer to have some visual materials before deciding their purchase. As for business owners, they need a platform to present these visual materials, be it photos or videos, to attract their target audience. 
Due to these two factors, Instagram is the best choice for digital marketing and presents the brand's visual identity. With the right strategy when selling on Instagram, you surely can reach your goal in no time. 
How To Sell Wigs On Instagram
Get An Instagram Business Account
As a business owner, it's time to get a business account on Instagram now that you've decided on your niche and specialty. 
Creating an Instagram business account is pretty easy and free; and you can even link it with your personal Instagram account for easy access. 
The reason for getting a business account is that you can manage your brand's presence and online store easily, it's like killing two birds with one stone. Besides, you can also utilize additional features available such as sponsored post, scheduled posting, etc., that can help to market your product better. 
In addition, you can also establish a shop on your business account through Instagram Shopping. This is the latest feature by Instagram that lets anyone shop directly from your Instagram photos and videos.
Working With Influencers
Wigs are a fashion statement, an item for self-expression that can be worn everyday. It is not anymore something that only appears during festivals or parties.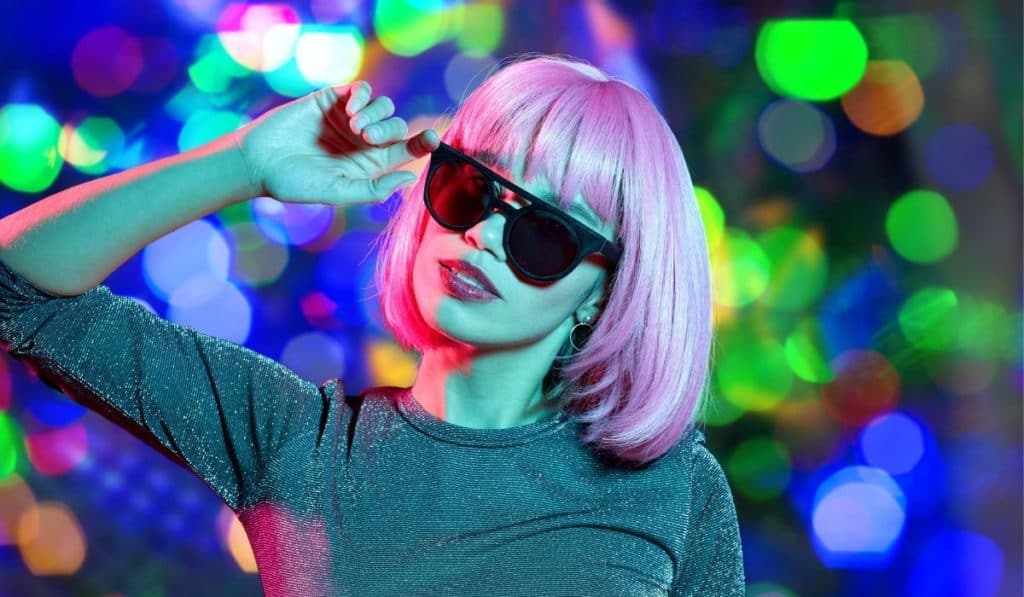 Hence why Instagram is awash with many posts of beautiful wigs, mostly worn by celebrities and influencers alike. Instagram celebrities usually will share the products they put on, such as where to get it, making them the perfect advertisers for your wigs. 
There are some elements that need to be considered before working with an influencer. Things like budget, followers counts, content quality, and target audiences are a few important criteria to consider. 
Next, you need to decide the work relationship you want to have with them. You can either have them be a one time reviewer, where you give them a gift away, then they review the product; or work in a paid partnership relationship.
Paid partnerships are excellent collaboration choices as both are able to promote each other since it's a requirement to include each other's profile on the post.
Besides, in a paid partnership relationship, usually there will be a written contract between both parties.
Since there is a contract, this also means you can request the type of content posted, like sharing behind-the-scenes photos or videos of their operation. Also, the contract also makes sure your influencer does not endorse competitors' products during the period they're working with you. 
Aside from influencers, you can also have paid partnerships with other business entities, which are beneficial for both parties. Eg. You're partnering with brands that sell clothes on Instagram. 
Give A Good Impression
Every brand must have a narrative to tell. It is what creates the audience's impression and attracts them to try out your wigs. 
There are many different styles, forms and colors of wigs in the market. To share all of them at once without planning your Instagram account aesthetic is not going to give the right impression and confidence towards your products. 
Firstly, write a good bio. Include information such as contact information, online store link; and description about your product like "cruelty free", "vegan" etc.
For the product posting/catalog, create themes, play around with the background color, with different models to showcase your wigs on Instagram. Make your posts look aesthetically beautiful.
Use presets to enhance your photos and videos. Presets can easily be found throughout the net, including Instagram. It's not surprising that many digitals creators sell presets on Instagram since Instagram is a photo-sharing app; making it the perfect choice to sell presets.
Additionally, make sure the captions are aligned with your brand identity and intended audiences. Avoid using irrelevant long captions or hashtags as it can look annoying.
Things like Q & A sections, wigs certifications, as well as buyers reviews also need to be included on your Instagram. You can use Instagram Highlight to show the information, where they will be available to everyone 24/7.  
Bear in mind that all this information will determine the first impression your customer has towards your brand and products. A further enhancement on the marketing strategy can be done once you have established your foundation. 
Use Instagram Shoppable Posts
Instagram has come out with a feature that makes the whole shopping experience better. This feature is called Instagram Shoppable Posts. 
Instagram Shoppable Posts are posts that have product tags on it. All the product information can be accessed by tapping on the shopping tags. Customers can easily view the product name and price; as well as adding them to their shopping cart or bringing them to your online store to complete the purchase.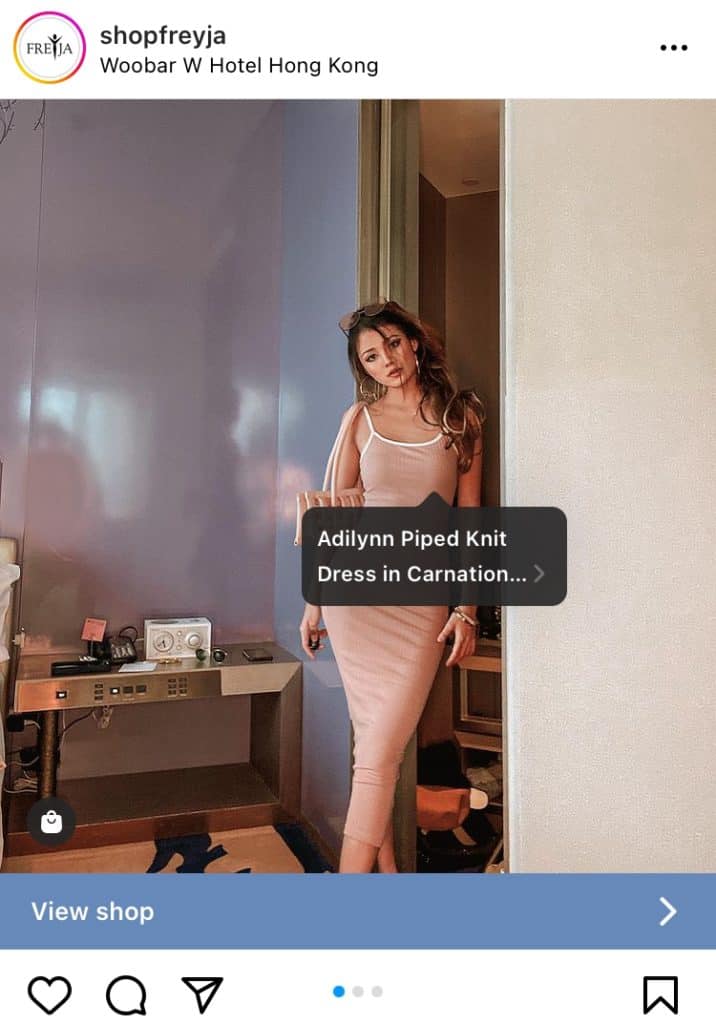 Source: shopfreyja
If you don't own an online store yet and would love to have one, we recommend Shopify for your online store. Not only is the setup process fast and easy, you can also link your Shopify online store to the shoppable posts. 
To make sure your customer never loses their track on your online store, your store link should always prominently displayed on the profile section. This move will ensure customers are able to go back to the store in case they accidentally leave the store. 
Another way to have an online store is by directly signing up for Instagram Shop, an in-house app that lets you sell your product within the app. With Instagram Shop, your customers can shop and purchase your wigs without leaving the app.  
All in all, Instagram Shoppable Posts are a great method to spread the word about your products, while ensuring customers have a great shopping experience. 
Post Content Regularly
Posting content regularly does not only mean spamming your Instagram with shoppable posts of your products. Comparatively, you might come across as overly promotional and annoying. 
The best content percentage to follow is 80% standard posts and 20% shoppable posts. Always  aim to give value to each post instead of publishing it for the sake of publishing.
Keep your contents interesting and informative. For example, you can create tutorial videos on the after care of wigs. If you also want to advertise hair care products alongside wigs, you can also include them in the tutorial video. 
In addition, share or republish educational and engaging information about wigs to your audience from time to time. Such contents will increase buyer confidence towards your brand and make them more likely to purchase your product.
Do A Live Broadcast On Instagram
With the Instagram Live Shopping feature, you can now promote and sell your wigs live. In addition, the audiences are able to purchase them during the live broadcast without leaving the app.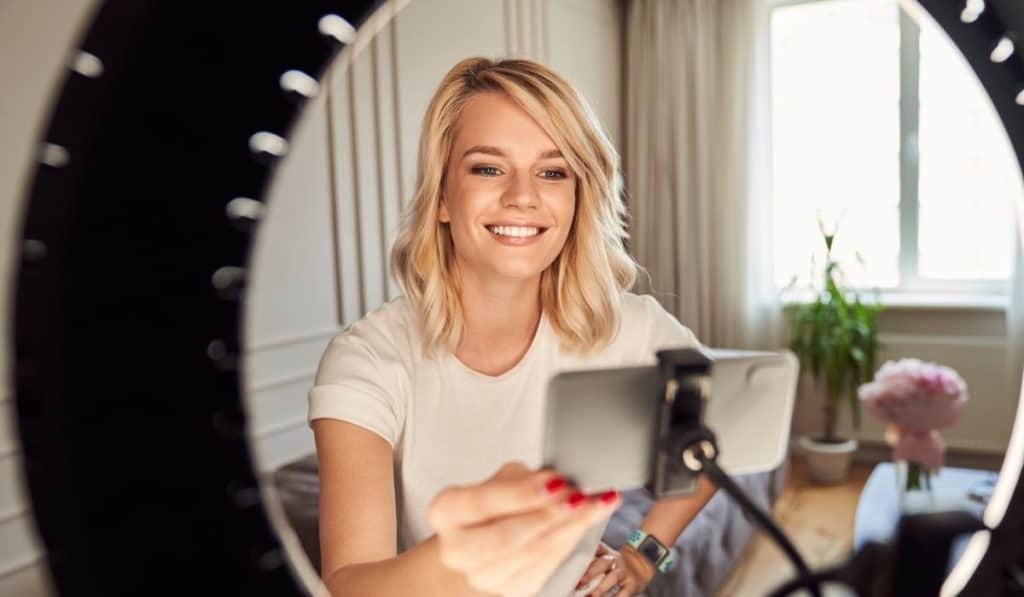 How Instagram Live Shopping works is by allowing business accounts to tag their products, either from Facebook or Instagram Shop, and display them during the live streaming. 
Going live means you will have the chance to strengthen and build closer relationships with your viewers. It also means you have the second opportunity to grab audiences attention and convey messages. 
All these are possible as live streams allow you to communicate with viewers in real time, answer inquiries about your products, highlight new products, share wigs tips, etc. It is a great tool that lets buyers get to know you, the founder, your brand as well as your products. 
To ensure a smooth live streaming, remember to arrange the products into different collections, with each collection having their own unique theme. Also, it is best to separate older collections with the latest release for easier differentiation by viewers.
With so many benefits, why not try to sell your wigs products through Instagram Live Shopping? 
Get Instagram Checkout
Instagram Checkout is a new feature from Instagram for business owners that just recently released some time ago.
Currently, this tool is only available to store owners in the United States. However, Instagram will roll out this tool to additional countries in the near future. Let's keep our fingers crossed that it will be sooner than expected. 
With Instagram Checkout, customers can now purchase items they like directly through Instagram without leaving the app. In a way, it creates a safe and secure transaction since everything is done within the app. 
Final Words
In reality, maintaining and increasing sales is not something that will happed overnight. Strategies and consistency is what you need to achieve that goal.
However, you should not feel discouraged in starting to sell wigs on Instagram. With more new features released for Instagram business accounts, it will take no time for your brand to spread and get buyers for your products.
All in all, wish you the best luck in your selling journey!