Perhaps you've associated selling art with stuffy galleries and snooty dealers. Or maybe you've been told that selling your artwork online is a huge no-no.
But none of that is true. In today's digital world, artists no longer rely on outdated and limiting methods to sell their work. New generations of artists are turning to the internet to sell their work, build an audience, and get their name out there.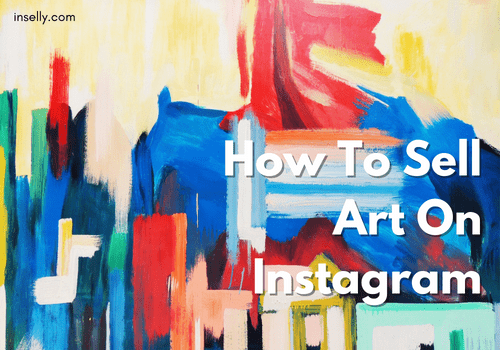 And one of the best places to do all three is right at your fingertips: Instagram.
With almost two billion monthly active users, Instagram is one of the most popular social media platforms. And it's not just for posting photos of your food or adorable pets (although we love those, too).
Instagram is also a powerful tool for selling your art.
In this article, we'll walk you through the steps for setting up an Instagram account to sell your artwork and share a few tips for making the most of this powerful platform.
Ready to start selling? Let's get started.
Steps To Sell Art On Instagram
Many artists assume they need to be super active on Instagram and have a large following before they can start selling their work.
But that's not the case!
You can start selling your artwork on Instagram by following the four simple steps below.
1. Switch To The Instagram Creator Account
If you're serious about selling your artwork on Instagram, then you need to set up a Creator Account. A Creator Account is designed for people who create content.
You can think of it like an Instagram Business Account but designed with individual creators instead of businesses in mind.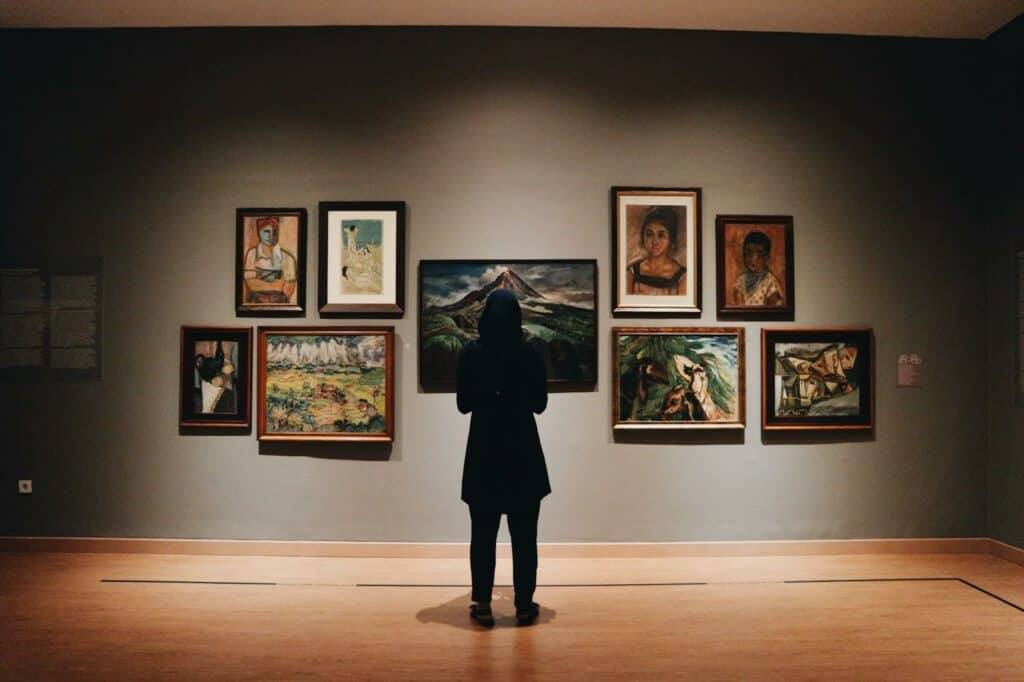 Source: https://unsplash.com/photos/1xp5VxvyKL0
To set up a Creator Account, follow these steps:
Go into your profile and hit the Menu button in the top right-hand corner. Then select Settings. After that, choose Account.
Now, depending on whether you're coming from a personal or business profile, select the appropriate option: Switching from a personal account? Choose "Switch Professional Account" and tap Creator. Swapping from a business profile? Opt for "Switch Creator Account."
Next, pick your category. You can go with Artist, or something else that fits your work.
At this point, you also have the option to link your Instagram account to a Facebook Page. If you have one, link it. Otherwise, make an effort to create one. You'll need it for the next steps.
Finally, review your contact information and decide whether you'd like to display or hide it on your profile.
Once you've followed these guidelines, you'll be successfully migrated over and ready explore all the possibilities available as a creator on Instagram.
That means you'll get access to all the cool features and insights that will help you grow your audience and sell your artwork more effectively.
For example, you can see detailed information about who's following you and how they're engaging with your content.
The Creator Account also gives you enhanced flexibility and control over your profile and how your content appears.
2. Optimize Your Profile
First impressions matter, and when someone lands on your profile, you want to ensure that you're putting your best foot forward. Here are a few tips to make your profile more appealing to potential buyers:
Choose a catchy and attention-grabbing username. Your username is one of the first things people will see when they visit your profile, so make it count. Try to choose something easy to remember that reflects your brand or art style.
Add a professional profile photo. Your profile photo is another element that will help people remember and recognize your brand. Consider using a professional headshot or a photo that represents your art style.
Write a bio that sells. Your bio is prime real estate for convincing people to follow you and buy your artwork. Use it to share a little snippet about who you are as an artist, what you create, and why people should follow you.
Post high-quality photos and videos. The content you post on Instagram is what will ultimately convince people to follow you and buy your artwork. So make sure that you're posting high-quality photos and videos that showcase your talent and reflect your brand in a positive light.
An excellent example of an artist who has done a great job of optimizing their profile is Magalie Foutrier.

Her profile is an organized, straightforward one, with a clear focus on her art. The bio tells you everything you need to know about her in just a few short sentences.
And the posts on her feed are all high-quality images of her artwork, making it easy to see her talent and style at a glance.
3. Create Your Instagram Shop
After you've familiarized yourself with the basics of running a Creator Account and are happy with how your profile looks, it's time to set up an Instagram Shop.
Here are some guidelines to help you along the way:
Before you can open an Instagram Shop, you need to make sure your business meets all of the requirements. This includes being located in a country where the feature is available, having eligible physical goods to sell, and complying with Instagram's commerce policies. For a full list of countries with access to the Instagram Shop feature, as well as those who will gradually gain access, visit Instagram's Shop page.
You'll also need to link your Instagram business profile to your Facebook business page – for this, you must be a Facebook page admin. This is an important step, as Instagram pulls the product catalog from your Facebook shop.
You can upload your product catalog by linking your existing Facebook catalog or creating a new one. If you don't have your Facebook shop set up yet, don't worry. All you'll need to do is create a Shopify store and add some products. Then, connect your Shopify store with your Facebook page by clicking the plus icon next to "Sales Channel" in the left-hand sidebar within the Shopify dashboard.
Once your accounts are connected, you'll need to add your product catalog to Facebook. To do this, go to the product manager in your Shopify dashboard, select the products you want to sell, click "Make Products Available," and click on Facebook from the dropdown menu. You'll have to do this for Instagram as well by adding it as a sales channel in the same way.
Once you have a Facebook shop set up and linked to your Instagram profile, Instagram will automatically start reviewing your account to see whether or not you're eligible to create an Instagram Shop. This review process usually only takes a few days, although in some cases it may take longer. You'll receive a notification once your shop is approved.
After you receive the approval notification, you can start selling on Instagram! Just confirm which Facebook Shop you want to connect to your Instagram profile and you'll be ready to go. Then, just tap "Get Started" on the notification or go to Instagram's business settings and tap "Shopping."
With all the above processes taken care of, you're finally ready to start selling your artwork on Instagram.
Start tagging products in your posts, using hashtags to market them, or creating shoppable stories and highlight reels.
Use this platform to showcase the breadth of your work, engage with potential customers and get the dough rolling in.
4. Promote Your Artwork
Of course, no one is going to buy your artwork if they don't know that it exists.
So once you're satisfied with the look of your profile, start brainstorming ways to get your art noticed by potential buyers.
Try these promotion ideas to get you started:
Use relevant hashtags to make your artwork more discoverable.
Post regularly and be active in the Instagram community.
Engage with other users by liking and commenting on their photos.
Collaborate with other artists, businesses, and influencers.
Host giveaways and contests.
Run sponsored ads on Instagram.
Use Instagram Stories, IGTV & Reels.
But don't limit your promotion strategies to just Instagram. Use every avenue at your disposal to spread the word about your work.
Share your artwork and Instagram profile on other social media platforms, on your website, in forums and online communities, and anywhere else your target audience might be hanging out.
You can also deploy QR codes to bridge the gap between the physical world and your Instagram art store.
For example, you could generate QR codes for your Instagram profile and include them on physical prints or products to make it easier for customers to follow you and shop your art.
Tips For Selling Art On Instagram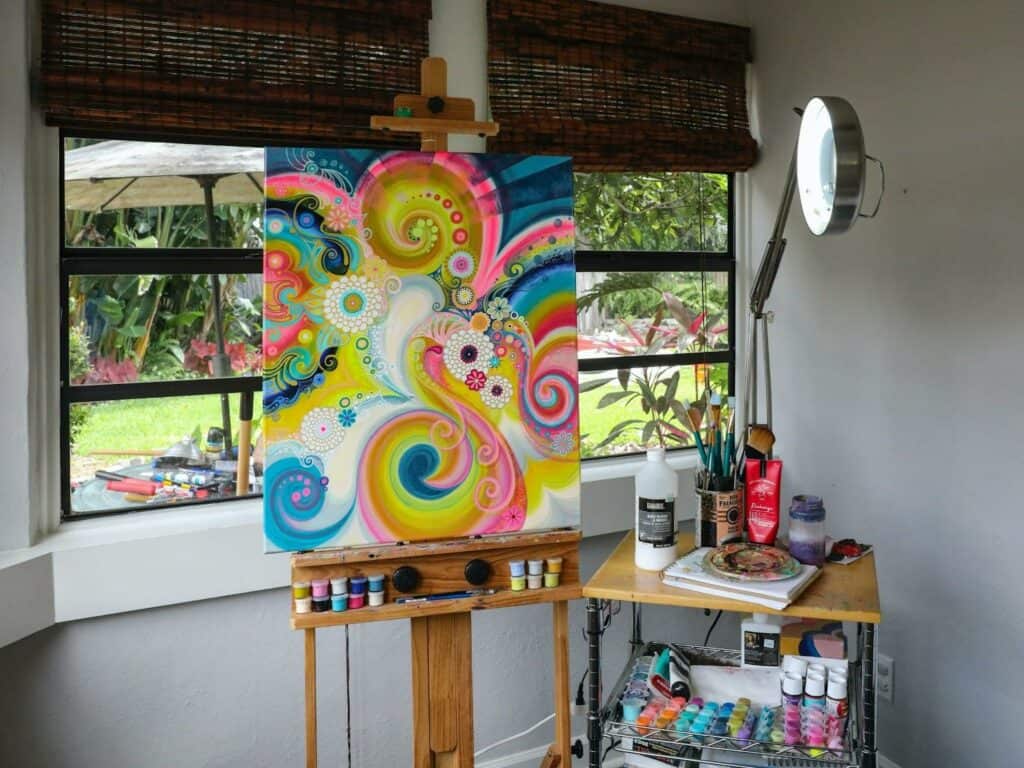 Source: https://unsplash.com/photos/Htt30LUxpBY
Alright, so you've put in the hard work to build up a following and promote your artwork. Now you have to start selling.
Here are a few tips you can use to make the process as smooth and successful as possible:
Plan How You'll Use Your Resources
As with any business venture, selling your artwork on Instagram takes time, effort, and resources. And while some might be tempted to go all in from the get-go, starting small and gradually scaling up is often the best approach.
This allows you to test the waters, see what's working and what's not, and make adjustments along the way.
It also helps you avoid burning out, which is all too common among creative entrepreneurs.
When you're just starting, evaluate your resource capacity and create a plan for how you'll use them. Be realistic about your ability to dedicate time and funding to strategies like promoted posts and ads.
Then, as your art empire grows, reassess your resources and adapt your plan accordingly.
Incorporate Social Proof
Social proof refers to the psychological phenomenon of conformity. People are more likely to do something if they see others doing it.
When it comes to buying art, this couldn't be more true. Therefore, to sell art on Instagram, you must show potential buyers that others are already doing it.
You can approach this in several ways. For example, you can post testimonials or reviews from past buyers, share photos of your artwork in people's homes or businesses, or post commissioned work you've done for clients.
Anything that helps show potential buyers that others have already taken the plunge and purchased your artwork is fair game.
Build Relationships With Your Followers
The people who follow you on Instagram are more than just potential buyers; they're also your fans and supporters. These are the people who appreciate your work, share your posts, and help promote your brand.
Nurturing these relationships will not only make selling your artwork easier, but it will also make your creative journey more enjoyable.
Take the time to get to know your followers. Respond to comments, ask questions, and run polls. The more you interact with your followers, the stronger your relationship will be.
That, in turn, will make them more likely to buy from you or recommend you to others.
Create A Content Calendar
If you want to market and sell your artwork on Instagram successfully, you've got to treat it like a business.
That means being strategic and deliberate about the content you post. Karoline Pietrowski's feed, for example, is a carefully curated mix of her artwork, process shots, and behind-the-scenes shots, all of which work together to give viewers a well-rounded look at her creative world.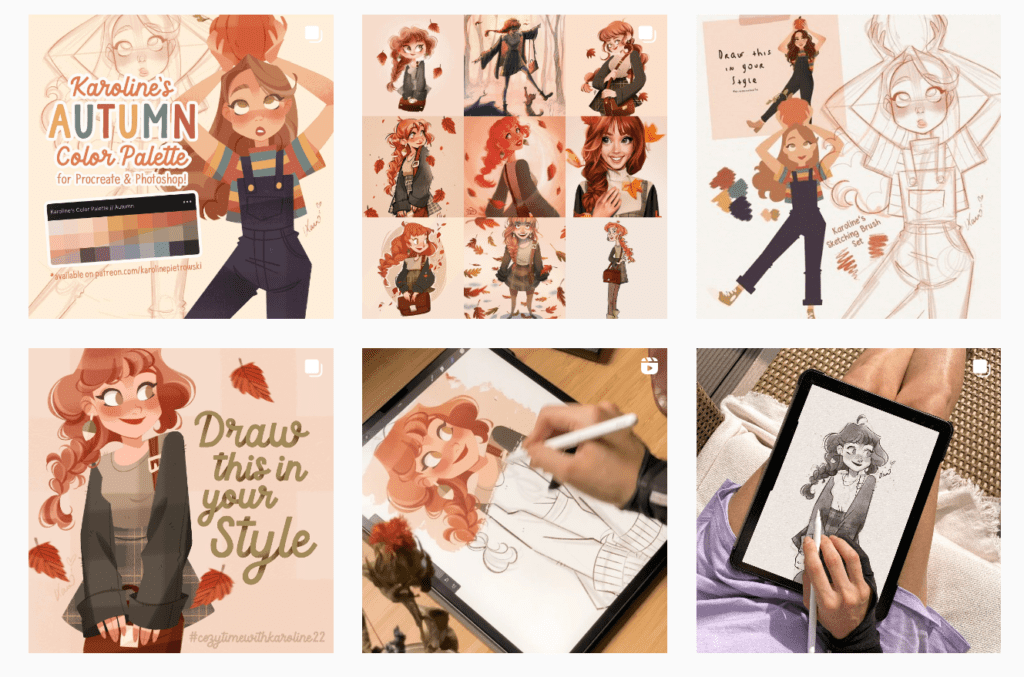 As opposed to other social media platforms, Instagram content isn't hidden deep in one's profile. Instead, it's presented in a grid view, making it easy for anyone to scroll back and see every post you've made dating back months, if not years.
Because of this, you need to be mindful of the content you're posting and create a cohesive feed that's visually appealing and on brand. One way to do this is to create a content calendar.
his will help you plan all your posts and ensure they all work together to create a consistent look and feel.
A social media content calendar is a document (either digital or physical) where you map out the content you plan to post on social media. This doc can be as straightforward or as elaborate as you want, as long as it serves as the central place to organize all your content ideas.
Using a social media calendar will help you avoid posting haphazardly, and instead capitalize on relevant holidays and events and ensure your content overlaps with a larger purpose or goal.
Final Thoughts – Start Instagramming Your Art
If you've been looking for a place to sell your artwork but don't know where to start, Instagram should be at the top of your list. The visual-centric social media platform is a goldmine for artists and makers of all kinds.
All you need is a little strategy and some savviness, and you'll be on your way to making sales in no time.