Unsure which of the two platforms, Wix vs Ecwid, is a better e-commerce platform for you? Well, this in-depth review between Wix vs Ecwid will be all you need to decide!
While both Wix and Ecwid are great at what they do, their unique features might make one a better option than the other.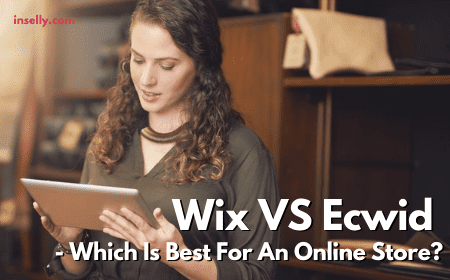 These include the customizability, the ease of use, value for money, help support, and more.
Towards the end of the review, you surely will be in a position to confidently decide the most suitable e-commerce platform for your business.
Let's get started
Wix vs Ecwid – Key Differences
One of the most stand-out differences between both e-commerce platforms is that Wix is an all-in-one store builder while Ecwid integrates with an existing website.
With Ecwid, you won't need to worry about starting from scratch. It integrates with a variety of CMS (content management systems), including WordPress, Blogger, Squarespace, and even Wix.
In a simpler word, Ecwid is basically a plugin that allows you to convert simple sites into e-commerce web stores. It is also easy to integrate Ecwid with Instagram, if you are looking for your followers to have a simple way to buy your products.
On the flip side, Wix offers a complete software solution that allows you to build and manage online stores from scratch. It also lets you create different types of sites such as blogs or business websites.
In addition, Wix also offers a variety of dedicated applications to help businesses in establishing and growing their digital presence. Once you have your eCommerce store it is fairly smooth to sell on Instagram with Wix if you wish to integrate it.
Pricing
Both Edwid and Wix are priced at a reasonable price point. However, you might need to invest a little more with Ecwid due to the additional domain and hosting expenses.
Ecwid Pricing Plans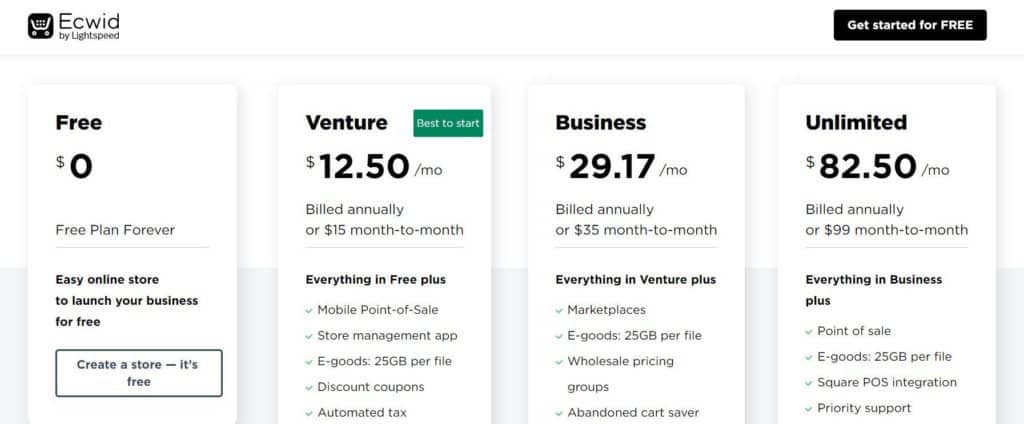 Source: Ecwid.com
The pricing plans of Ecwid are relatively straightforward. The starter plan is free forever, thus you can create a web store for free and evaluate if the tools are worth upgrading.
Of course, in the free plan, the features you get are mostly basic and pretty limited, and for obvious reasons. Hence, you will need to upgrade to a different plan if you want to further grow your store.
As for the rest of the pricing plans, all three plans come at a monthly or yearly retainer fee.
To start with, the "Venture" plan, which is the best plan to go for if you are a new user, you would be paying $15 per month (or $12.50/month when you go for the yearly plan)
Likewise, the "Unlimited" plan costs the highest which is $99 per month or $82.50/month for the yearly plan, but this plan comes with the most features as well. In other words, you get what you pay.
The downside of Ecwid is they don't support hosting and domain. Due to this reason, you will need to invest to get both the hosting and domain, leading you to a higher expenses scale.
Wix Pricing Plans
Source: wix.com
To create a web store with Wix and sell your products online, you would need to invest in one of its paid plans.
Although you don't get a free plan on Wix as how it was in Ecwid, you won't need to worry about trying it out as there is a 14-days money-back guarantee on all premium plans if you decide to cancel it.
Another reason to consider Wix Business Plan over Wix Website Plan is that you won't be able to accept payments on the regular plans as only the Business Plan offers that feature.
E-Commerce Features
Ecwid offers a full range of e-commerce features that will help you to effectively build and market your eCommerce store.
All the plans offered by Ecwid provide unlimited bandwidth, and you can add your store to any website you want.
Besides that, thanks to Apple Pay, you will get a one-click checkout feature as well. In the case you are thinking of adding another payment gateway, worry not, you are still able to add it and it is without any additional charges.
Another great thing about Ecwid is that they are also optimized for mobile and offer IOS and Android store management on paid plans.
Even though Ecwid do provides a lot of features, if they still seem inadequate to you, you can always turn to its App Market.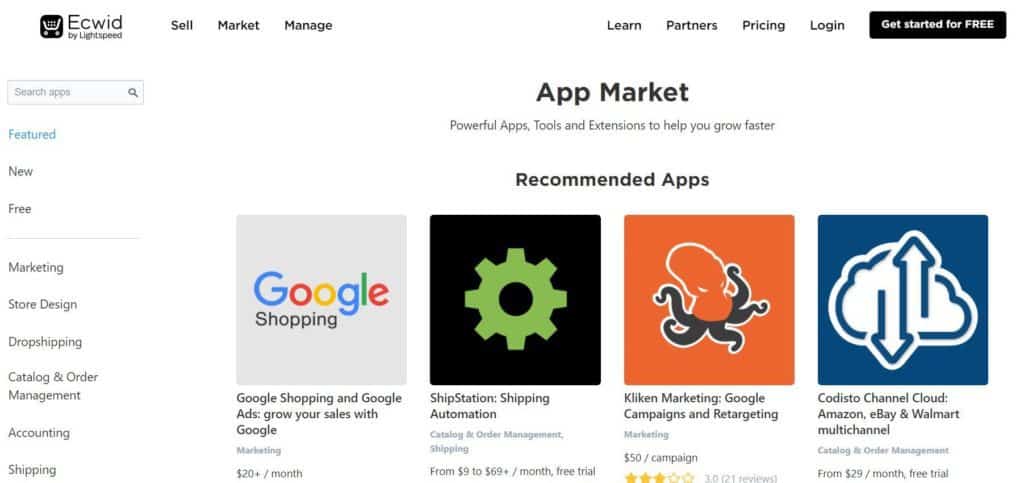 Source: Ecwid.com
Wix on the other hand, comes with multichannel sales features, comprehensive reporting, and unlimited bandwidth. On top of all these, their Business Premium Plan also lets you connect your own domain and use a free SSL certificate on it.
In Wix, you won't need to be concerned about the payment gateways as Wix has its own "Wix payments". Plus, depending on your region, you can integrate several other payment gateways as much as you want.

Source: Wix.com
Ease of Use
Ecwid's dashboard is simple and intuitive. You can pretty much handle everything from inventory, product listings, and shipping from one central location with ease.
Ecwid not only makes it easy for sellers to sell on third-party platforms like eBay, Amazon, or Facebook, but also lets you utilize WordPress or Wix with Ecwid without any hassle.
As for Wix, they also feature an easy-to-use dashboard where you can manage orders, run email marketing campaigns, and update product catalogs. Selling digital downloads with Wix or physical products is hassle-free with all the features they offer.
One of the best features this platform has is a website builder that stands out. Not only does the website builder offer multiple customization options, it also enables you to build an e-commerce store the way you please.
The only problem about Wix is that there are way too many features that you will need to get accustomed to. Thus, while having many features is always a good thing, there is still a bit of a learning curve to this platform.
Help and Support
No matter how much experience you have in technology, using platforms that are owned by someone else will always require assistance in most cases.
The support you will get with Ecwid are all down to the plan you selected. Here is how the help and support system of Ecwid works on different plans:
Free plan: Only support tickets
Venture plan: Live chat
Mid-tier Business plan: Phone callbacks
Unlimited plan: Priority support
As for Wix's support, although it is generally great, there are only two options you can choose:
Support tickets
Callbacks
Unfortunately, Wix does not offer live chat support. However, if you are on the Business VIP plan, your issues will always get the priority support from the company.
Wix vs Ecwid – Final Verdict
In conclusion, Ecwid does not offer great customization features as Wix. Hence, Ecwid is an e-commerce platform that is usually ideal for businesses that already have a website, and want to build and grow their online store on it.
In contrast, Wix is an all-in-one e-commerce platform with various customization options. You can build and grow your eCommerce store on Wix from scratch.
All in all, choosing which platform is the best for your business all boils down to your needs and goals.
If your end goal is just to add some e-commerce functionalities to your existing site, Ecwid will certainly serve that purpose. Otherwise, Wix is the platform to go if your desire is to launch and scale your eCommerce store.