According to Statista, Instagram hosts around 1 billion active monthly users. Clearly, the social media application boasts a humongous user base.
So knowing if someone is using your images can be nearly impossible but an option you have is to do a quick reverse image search can come in handy.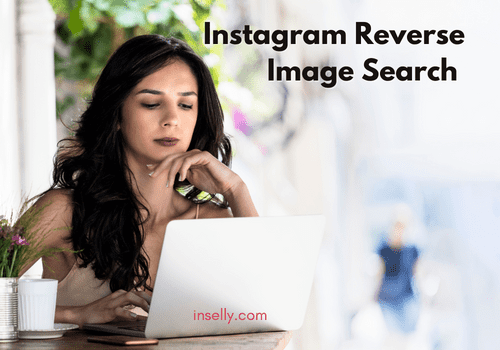 The good thing is there are several tools that can do a reverse image search for you. The not-so-good thing is some of them aren't useful because of an algorithm update in 2018.
How to Do Reverse Image Search Instagram
Before we jump into the solution, let's get something out in the open.
In 2018, Instagram implemented a change that affects how third-party software can access users' information.
So, although there are many tools that help you with reverse image search for Instagram, not all of them will be effective.
The point is you can't fully trust a third-party tool.
You see, Instagram's new API is private. This just means that software platforms can no more access users' photos the way they used to.
Let's talk about the online tools you can use to reverse image search Instagram.
1. Using Google
Google is, without a doubt, the most used search engine on the planet. There are most likely no images that can be hidden from Google.
So, you want to give it a shot when it comes to reverse image search on Instagram.
Here's how Google Image Search can help you find an Instagram profile based on a reverse image search:
Go to Google Image Search and click on the camera icon.

You'll be prompted to insert a URL or upload an image from your computer.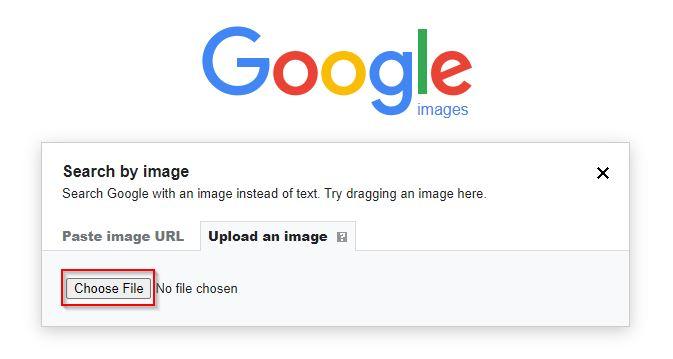 As soon as you upload your image, Google will search the internet and showcase the results.
You can then find the person or profile on Instagram based on that image.
You can also use a Google search operator to find Instagram-specific results. Just add "Site:Instagram.com" in the search box and press enter.
2. With Yandex
Yandex is the most popular search engine in Russia, and given the population of the country, it's safe to say you've got a good chance of finding your target with it.
You can find the source website or similar images by doing a quick reverse image search in Yandex.
Just go to Yandex image search here.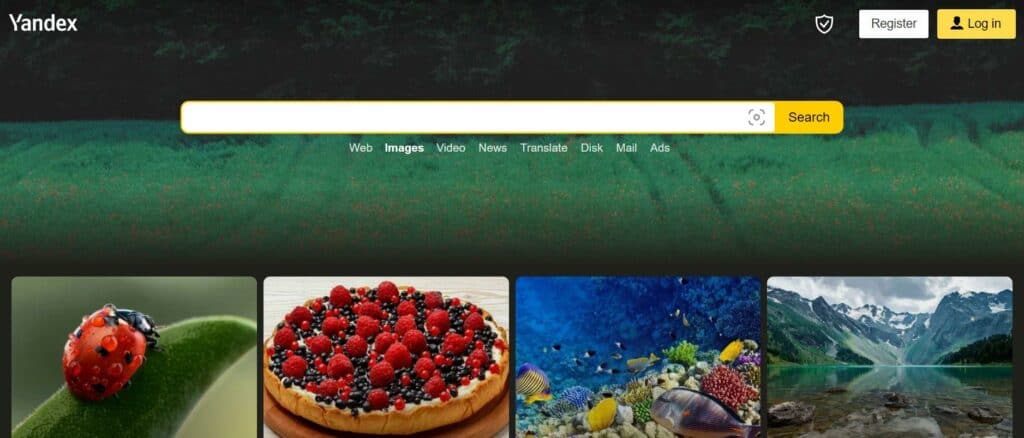 Click on the camera icon and upload the image from your computer.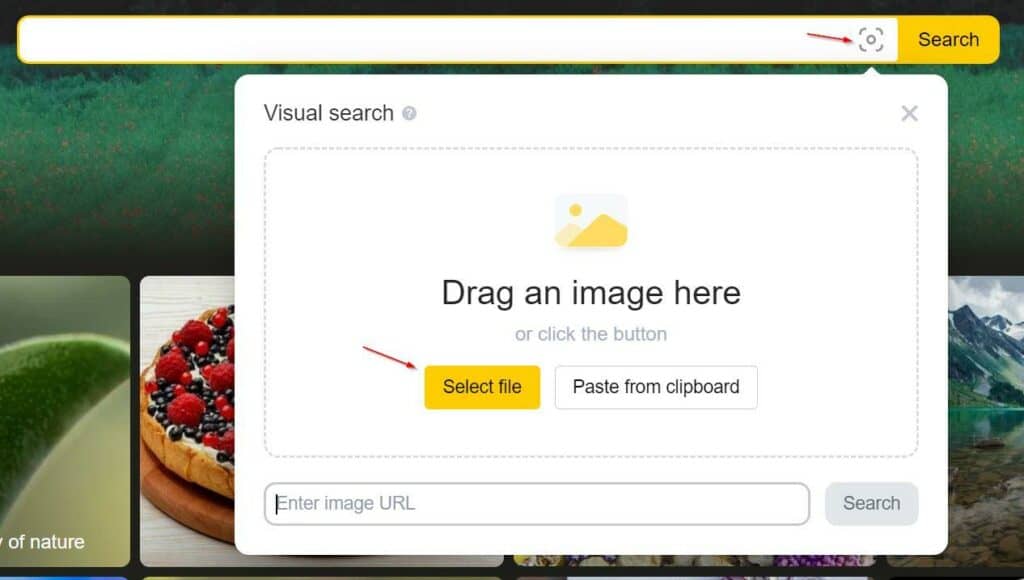 Note that you don't have to upload the file since there is an option to copy and paste an image, too. Or, you can enter the image URL.
3. Bing Image Search
With a 2.47% market share, Bing is one of the most popular search engines, second only to Google. It's available in 238 countries.
So, if you think you can ignore Bing for reverse image searching Instagram, you'd be wrong.
Here's how you can use Bing to reverse image search on Instagram.
Go to Bing Image Search.
Click on the camera icon in the search bar.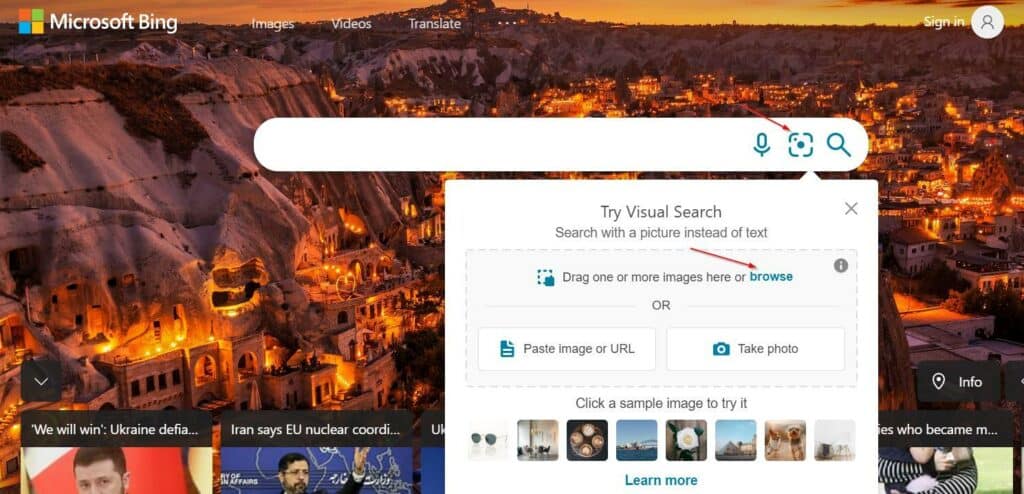 Click on "browse" and upload the image you want to look up.
You can also take a photo with your webcam or paste the image or its URL.
Moreover, Bing also gives you the option to try out the feature by uploading a sample first.
4. TinEye

TinEye is one of the best alternatives to search engines like Google for reverse image search. So, if you don't find what you're looking for with Google, Bing, or Yandex, TinEye would be worth a shot.
The online tool is a bit different than most reverse image search tools though. It doesn't fetch similar images for you. It gives you the "Exact matches". That includes the ones that might be cropped, resized, and edited.
Here's how you use it.
Go to TinEye.
Click "Upload" if you have the image saved on your device.
The software will search the internet for any potential exact matches and showcase the results.

Keep in mind that TinEye filters even some similar results, so you won't get the types of results that you get on Google.
That said, the tool is great for finding the original source of the image as it keeps the search to the point.
Frequently Asked Questions
Can You Find An Instagram Profile With Just A Photo?
Yes, you can find an Instagram profile with just a photo. Just upload your image on Google Images and see if it showcases any similar results. Click on any image and check out its source. You can also use other search engines like Bing and Yandex and third-party software like TinEye to reverse image search Instagram.
Does Instagram Allow Reverse Image Search?
Unfortunately, Instagram doesn't allow reverse image search at this point in time. The social media platform only lets you search profiles, places, or tags with text search. So, if you want to check if someone is using your Instagram photo, you'll have to use third-party software or a search engine.
What's The Accuracy Of Reverse Image Search Instagram?
There was a time when you could fully rely on third-party tools. But, ever since Instagram's recent API changes that put limitations on accessing user information, you can't really guarantee accurate results. The methods we've talked about are your best chances of finding an Instagram profile with a reverse image search.
Final Thoughts
There can be multiple reasons why you'd want to reverse image search on Instagram. Maybe you want to find a profile. Maybe you want to see if someone is using your image without your permission.
Whatever the reason, what you need to know is that, as of now, there is no way to reverse image search on Instagram.
You can only do that with other search engines like Google and Bing, or third-party tools like TinEye. And, if you're lucky, you'll find what you are looking for.
That's because Instagram has its own privacy policy on who can access user information and how. Although there are no guarantees, the methods we talked about can help you find the source of an image.