You might have seen people posting 3 Instagram pictures in a row that form one complete image.
Yes, those pictures look cool, not in your feed but in the feed of the profile who shared them. So you may be wondering how you can publish 3 pictures in a row and replicate that same look on your feed?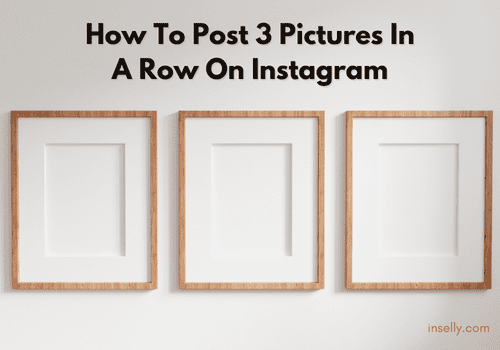 Well, this post is all you need to read in order to learn how to do that on your Instagram account.
Let's dive in.
How To Do 3 Instagram Pictures In A Row
1. Prepare Your "Full Image"
The first step, of course, would be to brainstorm ideas about what and how you're going to post.
How many images do you want to post in a row? Are they 3, 6, or 9?
Or, maybe you just want to split a picture into multiple parts?
Keep in mind that you need to Use High-Resolution Photos!
Using high-resolution photos is a must when you're splitting them for your Instagram feed.
This is because when you're cropping a photo into three parts, there's a high chance of blurring when someone zooms them in.
2. Split Your Instagram Photos Into 3 Parts
Let's say you want to split your photo into 3 equal parts. You can do that by using free photo splitter software. There are many out there, here is one of them.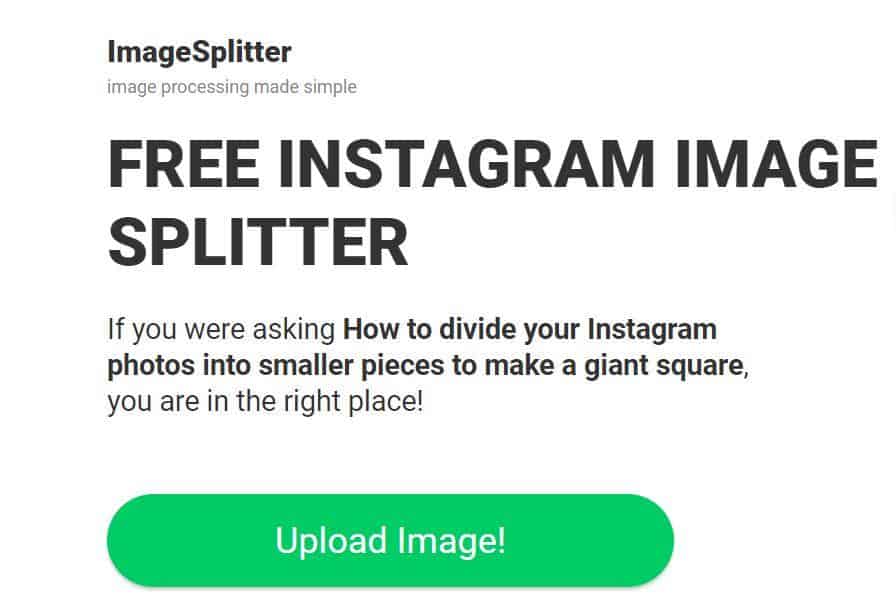 Source: postcron.com
If you're using a tool like this one, splitting a photo into 3 equal parts is a breeze. Simply upload your photo and select the number of divisions you want the tool to create.
After you hit the save button, the tool will format the main image as multiple images. You can then upload those sub-images to your Instagram profile.
3. Figure Out Your Posting Strategy
Now, posting 3 pictures in a row can be pretty easy with a tool like Tailwind. But, you do need to keep your feed clean and organized.
In order to do that, you'd want to come up with a posting strategy.
Do you want to post all of the split photos once or want to post them on separate days?
If you go the second route, your feed won't look very cohesive to your audience.
As a result, it can create confusion in the minds of people viewing those posts.
On the flip side, if you post all of them together, you can communicate your message better.
But, if you want to go the first route, make sure you build anticipation for it.
4. Posting The Three Images At Once
This is probably the easiest, cheapest and recommended way to do it. Just post each picture like you will normally do with any other post.
Keep in mind that you will need to post first the right side image, then the center one and lastly the left image.
Do one by one and just to keep it organized wait a couple minutes before you post the next one. Only just so you can double check you posted the correct part of the image.
The problem with posting all three split images at once is that it may seem like you are spamming your followers' feed. After all, all three images would look similar.
That said, this strategy does make sure that your Instagram feed will make sense and remain cohesive.
So, while you decide on your strategy, think about:
Whether the three images will make sense on their own or do you need to post them in a row?
What's your goal with the three posts?
Do you want to continue using this strategy or not?
5. Post The 3 Pictures Using A 3rd Party Tool
On the other hand, instead of doing it manually you can use an Instagram post scheduler like Tailwind.
Now, Instagram gives you a preview of your post before uploading it. However, you can't see how your post will look with the rest of your feed, until, of course, you publish it.
With a tool like Tailwind, you can get a holistic view of how your posts will look once they are on your feed. So, you can drag and drop them and place them wherever you want in the grid.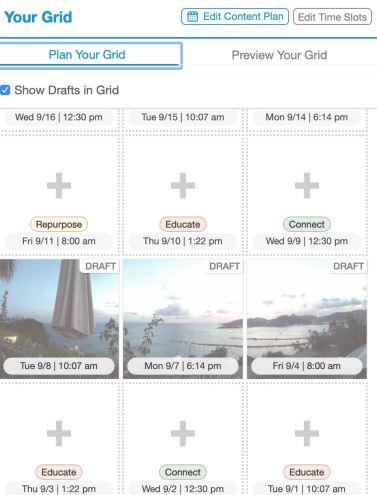 Source: tailwindapp.com
6. Done! Check It Looks Correct
Whatever you have decided to do for the last step, if posting manually or using a 3rd party app you need to check if the 3 images look correct.
Posting on Instagram 3 pictures in a row is quite simple and there are not many parts to manage but it can always get a little confusing if it's your first time and you can't make sure it looks fine until you are done.
There can always be mistakes, maybe there was an error when uploading one image and you didn't notice it, the split doesn't look fine or maybe it just doesn't look good after all.
If there was an error you can start again from step one and try again, it's that simple.
How To Upload 3 Photos In One Instagram Post?
You don't always have to post a single image or video in a single post. Instagram lets you post up to 10 images or videos at once.
Now, you might think it could be overwhelming for your audience to view so many photos/videos in a single post.
But, if they are relevant and interesting, that's not going to be a problem.
When you upload multiple media on a single Instagram post, your audience can only see the first one.
There are dots at the bottom of that first image/video that lets your followers know that they can swipe right for more.
Here's how you can upload multiple images or videos on Instagram:
Tap on the "+" icon at the bottom of your feed
Tap an image from your phone's gallery
Tap and select "Multiple Option"
Select multiple images by tapping them
Rearrange the order in which you want the images to appear by tapping, holding, and dragging them
Tap Next at the top and start editing your photos. You can edit one picture at a time or add a filter to all of them at once. If you want to apply a filter to all, choose a filter without selecting any image
Tap Next and add your caption. You can only add one caption for all of these images/videos
Your post will have an icon at the top right corner to let your audience know that the post has multiple images.
Final Thoughts
Your goal with posting 3 pictures in a row on Instagram can be anything from getting more engagement to communicating a particular message.
But, before you implement this strategy, make sure you're doing it for the right reasons, and have a goal in mind.
Thankfully, posting Instagram 3 pictures in a row is super easy, and you can do it with a free social media scheduling tool.
Just make sure your images are very high-quality since they can get blurry on zooming after getting split. Plus, before scheduling your posts, decide whether you want to post all of them at once or with small breaks.
There is no right or wrong strategy in this case; it'll depend on what you want to achieve with these three pictures in a row.