As a YouTube vlogger or creator, you know the importance of visual content and how crucial it is to capture every moment in the best possible quality. In the world of video publishing, the camera you choose can make or break your success. Luckily, there are plenty of great options available to help you create stunning videos for your channel.
Before diving into the specific models, let's briefly discuss why choosing the right camera is essential for vloggers and creators. High-quality video and audio are vital for engaging your audience, keeping them hooked, and growing your channel. Your camera should be reliable, easy to use, and capable of handling various shooting environments to keep up with your creative vision.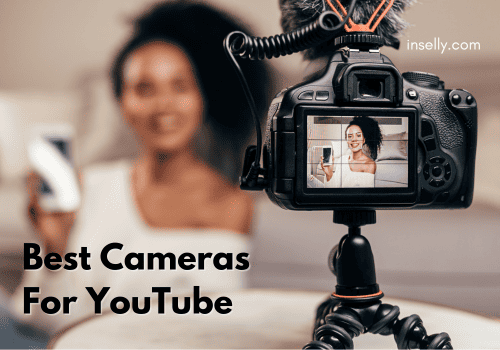 When you're researching the best cameras for YouTube vlogging, several factors should be considered before making a purchase. Look for features like image stabilization, autofocus, and low-light performance, to name a few. Additionally, consider the camera's size, weight, and ease of use to ensure it will be comfortable to handle during long shooting sessions. It's also crucial to think about the overall cost, from the camera itself to any necessary accessories.
We've spent numerous hours delving into the best options out there for YouTube vloggers and creators, with a focus on cameras that offer excellent performance, user-friendly features, and impressive video quality. So, let's dive in and explore the top contenders that could help you take your content to new heights.
Best Cameras For Youtube Vloggers And Creators
Your hunt for the perfect camera to ace your YouTube vlogging game ends with this beauty.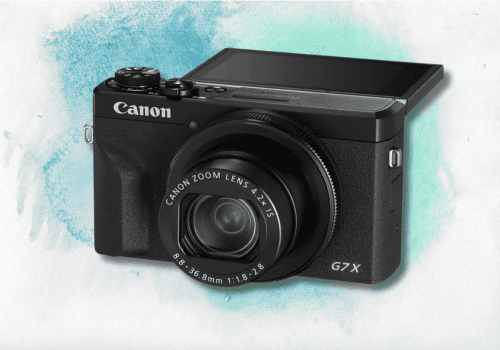 The Canon PowerShot G7X Mark III might just be the camera you need to step up your YouTube vlogging career. Offering crisp 4K video support and a 20.1 MP sensor, this camera knows how to make you and your content look good.
You can't help but love the compact design that makes it a breeze to carry around wherever your vlogging adventures take you. The 4.2x optical zoom lens lets you capture detail-packed close-ups and far-off views with ease, while the 3.0-Inch tilt touchscreen LCD is perfect for framing your shots and previewing your videos on-the-go.
This camera is not only meant for picture-perfect moments; it's also designed to be your personal tech-savvy companion. With built-in Wi-Fi and NFC, this little wonders lets you stream live on YouTube, so your audience won't miss a beat.
Although the Canon PowerShot G7X Mark III has a lot to offer, there are a few minor drawbacks that you may want to consider. The lack of an electronic viewfinder can be a letdown for some, and switching between photo and video modes can be a bit of a hassle. But hey, perfection is an illusion, right?
All in all, this camera is the ideal pick for aspiring vloggers and content creators who want to stun their audience with spectacular visuals. So, get ready to unleash your creative spark and capture magical moments with the Canon PowerShot G7X Mark III Digital 4K Vlogging Camera by your side!
Pros
Outstanding 4K video quality

Built-in Wi-Fi and NFC connectivity

4.2x optical zoom for diverse shots
Cons
Mode-switching needed between photo and video

No electronic viewfinder

Slightly pricey for beginner vloggers
Upgrade your vlogging game with the Sony ZV-1, designed specifically for content creators and YouTubers looking for high-quality video and fantastic features.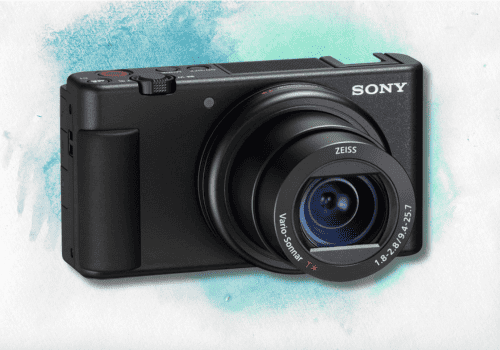 As a content creator, your journey towards becoming the next YouTube sensation starts with the perfect camera. Enter the Sony ZV-1. With its 4K HDR video capability and 20.1MP Exmor RS CMOS sensor, you'll be capturing stunning visuals that'll keep your viewers hooked.
Its fast hybrid autofocus system, including real-time eye autofocus and tracking, ensures your shots stay sharp and professional. No more unexpected blurry footage to ruin your day. Plus, the side flip-out 3.0″ touchscreen LCD makes framing your perfect selfie or vlogging shot a breeze.
However, be prepared for some challenges while using this camera. The built-in image stabilization might struggle while you're walking, so you'll need a steady hand (or a gimbal) to keep things smooth. The ZV-1's plastic build might not feel as solid as other cameras, but it does make it lighter for those extended vlogging sessions.
Unfortunately, heat can be an issue during lengthy recordings, with reports of overheating causing the camera to shut down. So, give your camera a break between takes to cool off and keep recording.
In conclusion, the Sony ZV-1 offers YouTube vloggers and content creators an ideal combination of high-quality video, autofocus features, and a vlogger-friendly design. Just be prepared to invest in some extra support for stabilization and watch out for potential overheating during long shoots.
Pros
Impressive 4K HDR video and 20.1MP image quality

Fast Hybrid Autofocus with Real-Time Eye and Tracking Autofocus

Side flip-out 3.0″ touchscreen LCD for easy selfie shots
Cons
Stabilization could be better for walking shots

Plastic build may feel less durable

Overheating issues in prolonged recording sessions
Capture your YouTube-worthy moments with the versatile Panasonic LUMIX GH6, a camera designed to make your vlogging dreams come to life.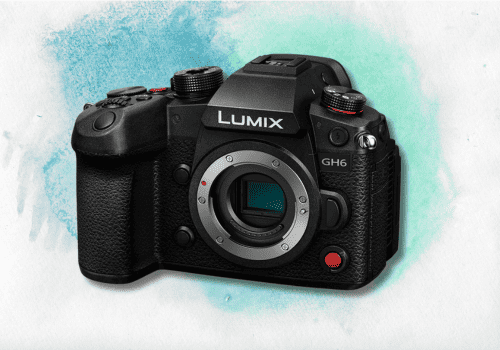 Panasonic LUMIX GH6 offers features that cater to the needs of YouTube vloggers and creators. Its 25.2MP sensor ensures high-resolution images that capture every detail, while unlimited recording in C4K and 4K provides top-of-the-line video quality, essential for impressing your loyal subscribers.
The 7.5-Stop 5-Axis Dual Image Stabilizer ensures your shots stay steady even when you're in the midst of the action. Say goodbye to shaky, out-of-focus footage, and treat your viewers to a professional-looking vlog they can't get enough of.
However, the LUMIX GH6 isn't without its downsides. Its weight and plethora of features might be intimidating for beginners or those used to more lightweight cameras. If you're willing to put in the time and effort to learn the ins and outs of this powerful tool, your YouTube career will surely thank you for it.
In conclusion, the Panasonic LUMIX GH6 is a fantastic choice for YouTube vloggers and creators, providing top-notch features and versatility. While it may be on the pricier side, if you're looking to elevate your content and stand out in the sea of creators, this camera is worth the investment for your channel.
Pros
High-resolution 25MP sensor for sharp, detailed images

Unlimited C4K/4K 4:2:2 10-bit video recording to meet your diverse vlogging needs

7.5-Stop 5-Axis Dual Image Stabilizer for steady shots even in tricky conditions
Cons
On the heavier side, might require some time to get used to

The vast array of features might be overwhelming for beginners

High price tag may deter budget-conscious buyers
The Fujifilm X-S10 is a game-changer for YouTube vloggers and creators, offering top-notch performance in a portable package.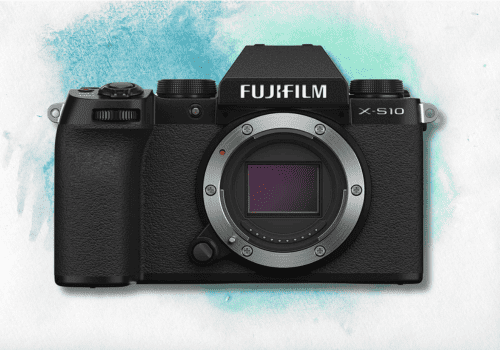 As a YouTuber or creator, the Fujifilm X-S10 allows you to make content without missing a beat. Its deep grip provides secure handling even with larger lenses, ensuring you capture those spontaneous moments with ease. And while getting the hang of any new camera can take time, once you're familiar with the X-S10, you'll wonder how you ever managed without it.
No more shaky footage – with the X-S10's five-axis in-body image stabilization, smooth footage and super-sharp stills are just a click away. Dare to experiment with awkward angles, thanks to the 180° vari-angle LCD touchscreen, which empowers you to get the perfect shot every time. And, with 0.02 seconds autofocus, you'll never miss that priceless reaction or epic wipeout.
For those worried about video quality, breathe easy. The X-S10 records cinema-quality DCI 4K/30p and super-slow-motion Full HD/240p, ensuring your content always looks the part. Fujifilm's unique 18 Film Simulation modes give your shots a personal touch, meaning your content will never be mistaken for someone else's.
In conclusion, the Fujifilm X-S10 is undoubtedly an excellent choice for YouTube vloggers and creators who want a high-quality camera without compromising on portability. Get ready to level up your content game and create unforgettable videos, as the X-S10 becomes your new best friend on your creative journey.
Pros
Deep grip for secure handling

In-body image stabilization

Fast and accurate autofocus
Cons
Learning curve for beginners

Video focus can be slow

Limited battery life for heavy video users
This camera is your ticket to YouTube greatness with its vlogging-friendly features and impressive performance.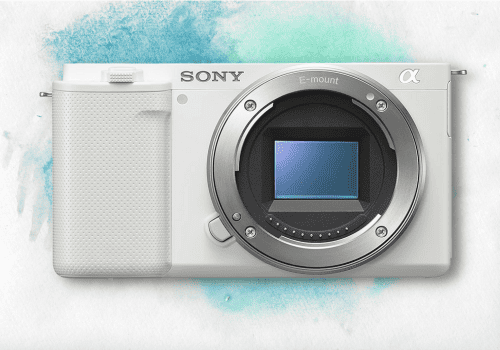 As a YouTube vlogger and creator, you know the importance of having the right camera for captivating your audience. Your search ends here with the Sony Alpha ZV-E10. This camera offers a large 24.2MP APS-C sensor and a fast BIONZ X processor that lets you record vibrant, high-quality videos showing off your creative flair.
You'll be amazed at the stunning 4K videos you can produce, thanks to the oversampling from 6K and full pixel readout. Say goodbye to choppy focus switches between your face and your showcased items, as the Product Showcase Setting will smoothly transition the focus to keep up with your dynamic style.
Of course, no camera is perfect, and the Sony Alpha ZV-E10 does have some areas to consider. There might be some configuration needed for streaming purposes, but once you get the hang of it, you'll be streaming live like a pro. And while the kit lens does get you started, you may want to upgrade it to make the most of this camera's capabilities.
As a beginner, there could be a learning curve when navigating this camera's features, but once you've mastered them, it'll be smooth sailing for your vlogging adventures. So grab this camera and make an impact on YouTube as a creative force to be reckoned with!
Pros
Large 24.2MP APS-C sensor and fast BIONZ X processor

4K movie oversampled from 6K with full pixel readout

Product Showcase Setting for smooth focus transitions
Cons
May require some configuration for streaming

Basic kit lens included (upgradable)

Slight learning curve for beginners
Buying Guide
So, you want to become a YouTube vlogging superstar and you're in search of the perfect camera? Fear not, dear reader, for we have assembled a brief buying guide to help point you in the right direction. Remember, it's not always about the most expensive or shiny equipment – it's about choosing the camera that'll make your content shine.
Cost-effectiveness
Hold on to your wallet, and let's talk about price. When choosing a camera for your YouTube exploits, it's essential to balance quality with affordability. You don't need to break the bank to get started, but you should invest in a solid camera that'll grow with you as you progress.
Video quality
Of course, nobody wants to watch pixelated videos from the early 2000s. To keep your audience engaged, make sure your camera can shoot in Full HD (1080p) at the very least. For those who want to live on the cutting edge, 4K is even better, but beware – higher resolutions need more storage space and can be more difficult to work with during editing.
Autofocus
Ah, autofocus – a vlogger's best friend. Look for a camera with speedy and accurate autofocus. It'll save you from blurry shots and frustration while you're on the move or capturing spontaneous moments.
Image stabilization
Unless you're going for a unique brand of shaky-cam aesthetics, you'll want your videos to be as smooth as butter. Cameras with built-in image stabilization are perfect for this, helping eliminate any camera shake that can happen when you're walking around or just have shaky hands.
Audio quality
While your viewers may forgive less-than-perfect video, poor audio can be a deal-breaker. Cameras with decent built-in microphones are excellent, but even better if they have an external microphone input. This way, you can invest in a quality external mic to capture crystal-clear audio your audience will love.
Flip screen
Gotta get that perfect selfie angle, right? A flip screen is essential for vloggers, as it ensures that you always know what's in the frame and can easily adjust your shot.
And that's it! When choosing a camera for your YouTube vlogging adventures, keep these essential features in mind, and you'll be well on your way to creating engaging and high-quality content. So go forth, dear vlogger, and capture the world – your audience awaits!