Social media is great. It connects people altogether, allowing you to share your daily routine, connect with your friends and also link up with like minded people. But with the easier connectivity, this also means you will receive tons of unwanted and unsolicited direct messages (DMs).
If you do receive way too many unsolicited DMs on Instagram and are looking for ways to stop receiving such messages on Instagram, this article has what you need to know to make your wish come true.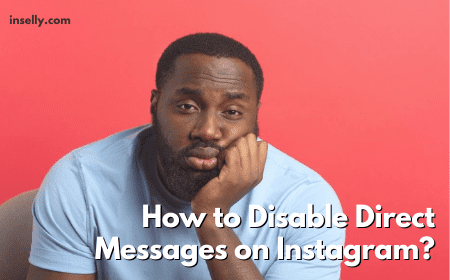 We understand that constantly receiving unsolicited direct messages on Instagram from strangers can be really annoying and frustrating. Fortunately for you, there is a solution. 
The trick is by disabling direct messages on Instagram. However, you do have to learn the steps on how to disable it to ensure the trick works.  By the end of this guide, your Instagram inbox will be free of unwanted messages or message requests.  
Without further ado, let's dive in. 
How to Disable Direct Messages on Instagram?
Before we get into the step-by-step guide, let's get something out of the way. There are plenty of tutorials you can find on the web, yet most of the tutorials will only teach you how to turn off Instagram DM notifications. 
But as of now, you don't just want to just turn off the notifications as it won't stop strangers or fake Instagram accounts from dropping unsolicited direct message to your Instagram inbox. What you want is to disable the DM feature to clear the inbox clutter. 
Let's check out below to see how you can do that. 
1. Go to Settings and Tap "Privacy"
To disable direct messages on your Instagram account, firstly you will need to go to your Instagram settings. Go to your profile and tap on the hamburger icon at the top right corner (menu icon). 
Now, tap on "Settings".  In the settings menu, tap on "Privacy".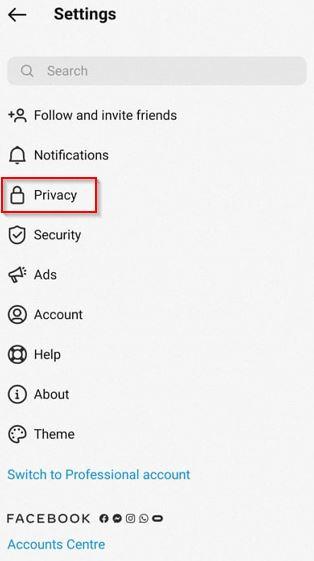 2. Navigate to Messages
After getting inside the "Privacy" settings, scroll down and look for "Message". Tap on "Messages" and Instagram will then redirect you to the message control settings.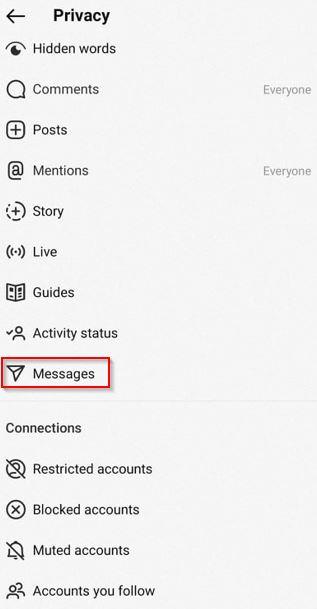 3. Tap on "Others on Instagram"
Under the "Message Control" settings, you will see different options like "Your followers on Instagram" and "People on Facebook".
As our concerns are about receiving DMs from strangers, not from your followers or close friends, you will need to select the option "Others on Instagram".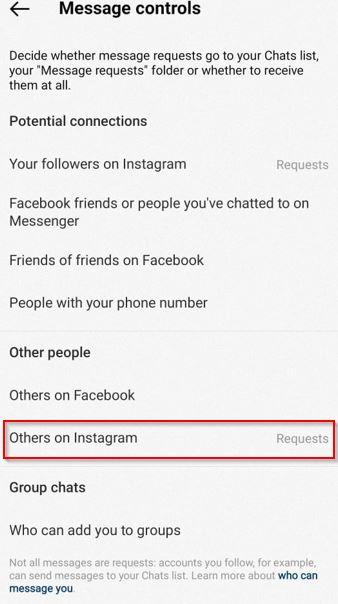 "Others on Instagram" alludes to Instagram users that you don't follow. So, you can disable direct messages for all the strangers with just a tap of your finger. 
4. Select "Don't Receive Requests"
Lastly, select the "Don't receive requests" option.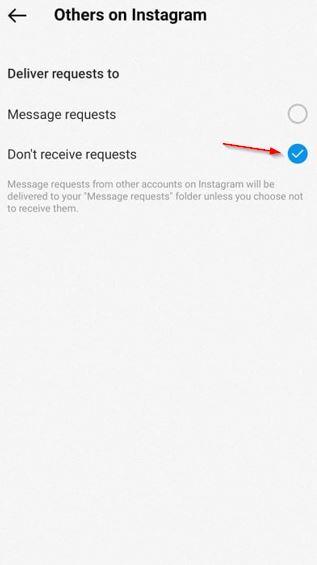 After you select this option, you won't be receiving any unsolicited messages from strangers or non-followers on Instagram anymore. 
You can also disable direct messages on Instagram for the people that you follow. Just go back a step and select the "Don't receive requests" for "Your followers on Instagram". 
Instagram also allows you to disable message requests for:
People you've chatted with on Facebook Messenger

Facebook friends

Friends of friends on Facebook 

People with your number 

Others on Facebook 
It's important to keep in mind that turning off notifications for direct messages or calls won't prevent users from messaging you. 
So, you want to follow the exact method discussed above if you want a clutter-free Instagram inbox. 
Final Thoughts
Unsolicited Instagram direct messages can be annoying and distracting. Fortunately, if you want a clutter-free inbox, there is a way for you to make it happen.  
All that you need to do is just disable direct messaging from your profile settings and you will be free from all the annoying direct messages. 
Here is a quick recap. Go to:
"Settings" (After clicking the hamburger icon at the top right)

"Privacy" 

"Messages"

"Others on Instagram"

"Don't receive requests"